Each month we will profile an athlete or volunteer that has made a significant contribution to the club or their team mates.
Clubperson of the month awards are now on hold until face to face training and competition is back on in the near future.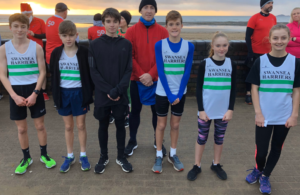 October 2020 Josh Griffiths
Josh Griffiths has been chosen as Swansea Harriers AC athlete of the month of October 2020 for his performance in this year's Virgin London Marathon held on the re-arranged date of the 4th of October. To comply with Covid-19 restrictions this year's course consisted of 19,6 laps of a 2,15km loop around St James Park. In cold, wet conditions, Sir Mo Farah paced a group of elite British athletes, including eventual winner Jonny Mellor and 2nd place Ben Connor. At the 20km mark Josh was behind this group in 29th place. The second half of the race saw several of the early leading runners falling back. This gave Josh the encouragement to push on and close-down on the leading group. Running a brilliantly paced second half Josh finished strongly in 18th place overall and third best GB runner in a new personal best time of 2:13:11. He was also the first Welshman home. This new marathon PB came after setting a new PB in the Antrim Coast Half-marathon in September when he finished in 6th place with a time of 63:08. Our congratulations to Josh who has now established himself as one of the country's top road runners.
For August and September 2020 for the club person of the month, the club trustees have made a joint recognition, which goes to the whole club!
In these extraordinary times the Trustees of Swansea Harriers want to give a big thank you to everyone who has ensured we have been able to get our training sessions up and running again. It has been great to since August 3rd when the tracks re opened, our athletes and coaches returning to training and to see some of our athletes beginning to compete again.
As well as recognising the efforts of our athletes, we need to recognise the tremendous work of all our coaches in ensuring that training has been able to resume, either at the University track facilities or wherever the coaches have felt it feasible and possible to get back to training.
Our newly established Covid Officers have played a crucial role in getting us back training safely, especially as sessions have been held from Monday through to Thursday to enable as many members as possible to return to the track.
A special thank you goes to all our coaches and the University track staff. The coaches for their cooperation in establishing organising and adapting their squads to the coaching rotas and ratios, and Andrew Griffiths the track manager and his staff for ensuring the University track and field facilities have been made available to us and in ensuring a very positive welcome back.
We all need to continue to work within the Covid guidelines and ensure we can continue to build on our initial great work to bring athletics back to Swansea in a safe a way as possible.
Thank you to everyone for being our club members for August, September and beyond.
Lynne Brier
Chairperson, Trustees Committee