Swansea Harriers Open Meeting Athlete & Volunteers Information
It is all systems go for this Sunday 3rd April Swansea Harriers Open Meeting at Swansea University SA2 8QB.
FREE parking has been arranged for everyone in the Singleton Hospital Car Park shown on the image below: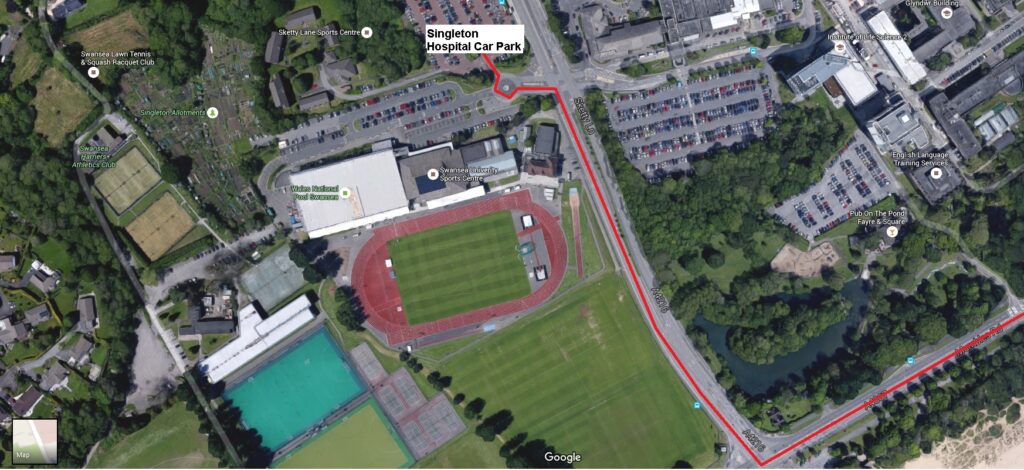 All entries are now closed, no changes or late entries are allowed, as all numbering, seeding and printing is now done. All athletes must sign in to collect their numbers and pins no later than 1 hour before their first event, upstairs in the white pavilion by the 100m start line. The original event timetable is unchanged and can be viewed on the image below. The weather forecast keeps evolving, however if it rains athletes MUST wear spikes in the high jump, hurdles & pole vault. We will have a limited number of second hand track & field event spikes on sale for £5 at registration. Click here to remind yourself of your age group and events entered, as well as to view all athletes events.
UKA qualified officials should also sign in between 10.30am to 11am in the pavilion where you will be allocated your duties, we are very grateful for your support.
Importantly, incorporated into the meeting is the West Wales Officials recruitment & development day. This is an ideal opportunity for your club (regardless of if they are West Wales clubs or not) who have athletes entered to encourage new officials into our sport, ready for the 2022 track & field season. Please can we encourage parents from all clubs to attend. All volunteers will be of invaluable support throughout the season for athletes from all clubs not just your own, in all fixtures whether it be in Welsh Leagues, British/National Leagues, regional or national championships. To offer your help please complete the following expression of interest form indicating which area you would like to volunteer in from timekeeping/photo-finish, field judging, track judging, starting/starter assistant and results. The development day will be led by John Elward the West Wales Officials secretary, a very experienced offical and his team of friendly and expert UK Athletics officials. Any queries please email [email protected]