Swansea Harriers has a large team of very dedicated volunteer officials that help the club fulfil its commitments in all its league, cup and championship fixtures on and off track throughout the year. Jo Wood is the clubs officials coordinator and is the main point of contact for any new volunteer officials and all our existing officials.
If you are willing and available to help at any of the clubs fixtures as a track judge, timekeeper or field judge for any home or away fixtures or any administrative role, please contact Jo whose contact details are at the end of this page. Even if you are only to help at a handful of events a year this makes a huge difference to the to the club. For more detail on the world of officiating please read the Officials welcome pack final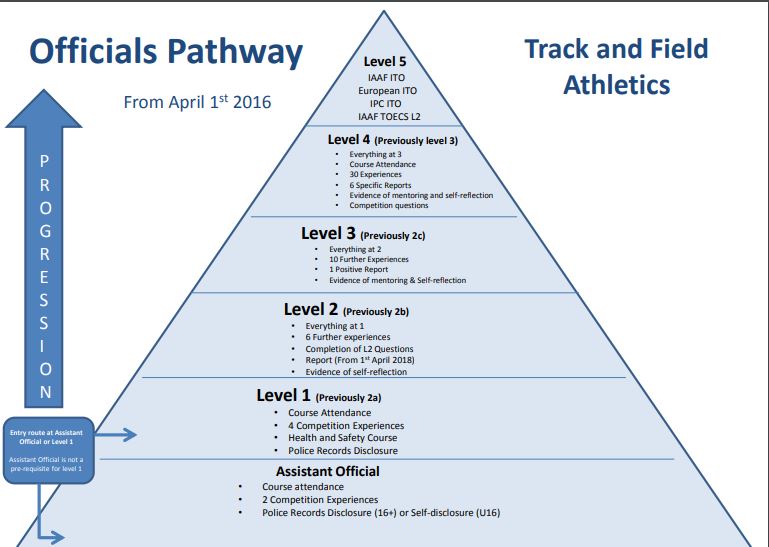 All officials must have an enhanced DBS check and have a valid British Athletics Officials License to officiate at the club. Licenses are valid for a 3 year period and the enhanced DBS check must be renewed to have the license validated for a further 3 years.
The UKA Disclosure and Barring Service application is an online form. This system not only makes it easier for individual's to apply for a DBS but also makes it quicker by streamlining the process. Follow the steps below:
Log onto your myATHLETICS Portal. If this is the first time you are applying for an officials licence, you would have had an account created for you when you applied to attend a course, in your confirmation email you will find your URN number (this is the same as your WA number).
Once you have logged in you will see your personal details section. At the bottom of the first section shows the current status of your DBS.
Click on the appropriate link to update your DBS. Follow the on-screen instructions.
You will need to provide three forms of identification to the person you chose as your verifier. The online process will state who you can use as a verifier and suggest verifiers local to you. You can click here to see what identification you can use.
Once you have completed an online application it is processed and you will receive your DBS certificate in the post. Once UKA have received an electronic copy of your DBS certificate your licence will be produced and sent out.
Having completed a course the prospective official will be required to complete a Logbook of their experiences whilst officiating at events as evidence of their officiating. Successful assessment of the log-book will lead to the appropriate UK Athletics Level 1 or 2 Officiating Award and an Officials License will be issued or amended, subject to the official being in receipt of an up to date UK Athletics Enhanced DBS disclosure.  Many Leagues penalise clubs for not providing a minimum number of qualified officials at their meetings. This is an opportunity to help our club meet these requirements.
Contacts Information