Team Spacey Now Recruiting
There is a free Level 1 UK Athletics Track Judging Qualification, 6pm to 8pm Wednesday 27th July at Swansea University with a minimum age to attend of 16.
We are seeking parents, guardians and grandparents to attend the course to help us fulfill our officiating obligations at home and away matches please.
Emma Spacey is our officials secretary and she works very hard to ensure we have enough appropriately qualified officials at all our events. This is an ideal opportunity to join the team and help us out. You can find more details about the world of officiating on this link, and details of the course content and how to book are outlined below.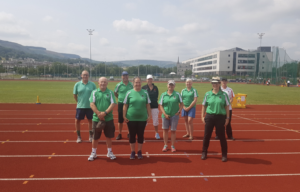 The level 1 Track Official course is an entry level qualification on the UK Athletics Track & Field Officials pathway.
This online course will introduce candidates to the key roles, responsibilities and duties of a Track Official:
*Recording and reporting infringements, knowledge of track markings and judging lane lines and the finish.
*Knowledge and application of rules relevant to the role specific to discipline
*Ability to follow duty sheet
*Relationships with other officials
*Relationships with athletes
*Health and Safety
*Appropriate attire/equipment
All of the modules are interactive and they are designed to help officials apply new knowledge and skills in practice, either through workshops and discussion, or through practical drills.