We have a thriving Senior and Masters (35+) running scene at Swansea Harriers. Our Tuesday and Thursday group is for women and men aged 17+. Our current members range from 17 to 70. The group is for anyone who runs to a reasonable level already, and wants to improve such as runners who can run a 10km in around 50 minutes or less, or a half marathon in 2 hours or less. We have runners who like any distance, but particularly those who like 5K upwards, all the way to ultra marathons including fans of any surface; track, road, trail, cross country and multi terrain!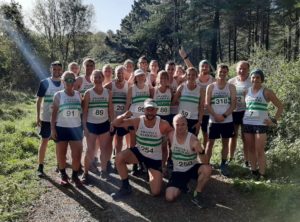 We meet at Swansea University inside the foyer near the running track on Ashleigh Road, SA2 9AU every Tuesday and Thursday, from around 6.45 pm, for sessions that usually last from 7.00-8.30, and we tend to cover 6-9 miles.
We offer the chance to meet like-minded runners, and train in a supportive group environment. There is a varied programme, from short intervals to long tempo runs, sessions on  track, cycle path, pavement, grass, beach and hills. It is  a "no pressure" environment. The cost is relatively low with no charge for most training sessions, except for track sessions which are £3.
After a few sessions you will need to join Swansea Harriers. You will then have the opportunity to compete for Swansea Harriers in individual and team events, when you are ready. Annual membership is £40, this includes membership to the club, the Governing Body of Welsh Athletics and personal insurance. You can print a club membership form here  2020-2021 Membership Application for New Members & Renewals.pdf In addition you will receive a £2 discount when you enter most races.
A club vest £17 and available in the club shop every Tuesday and Thursday for purchase.
Other information:
The hardest part is often turning up to your first session. Due to the great group atmosphere, people inevitably return and there is a great social side to Swansea Harriers too. There is also a faster training group that meets Tuesdays and Thursdays. For more information, please ask. If you are keen, next step is to just turn up or contact one of our lead coaches , Kneath Philippart 077 18 74 97 90. Vanessa Harrigan, Paul Flynn, Simon Brewer or Helen-Marie Davies You can also contact Andrew Jenkins the Club Coaching Coordinator on 078 94 57 35 55 or [email protected]. We have a Facebook page (closed group), for which you can view the home page. If you become involved in training with the Club, you can then request to join. We hope to see you soon!
More detail on the athlete development and coaching pathway in the club can be found here Swansea Harriers Athlete Development Pathway Version 5.pdf
Swansea Harriers Charitable Incorporated Organisation Constitution Updated 12.02.18.pdf