Results & Awards Round Up
This week we have results and awards to round up for you from Braga Portugal, Lee Valley London, Rhayader, Newport & Cardiff.
Belated congratulations to M50 Peter Roberts who finished a magnificent 4th in the European Masters Indoor Championships in Braga Portugal back on Thursday 24th February with a throw of 40.25m in the Discus!
Saturday 5th March was the Rhayader round the lakes 10km & 30km road races where we had three finishers in the 30km; first home was M45 Charles Walsh in 2:10.05, followed by M45 Owen Davies 2:16:55 and M45 Simon Coombes in 2:18:34, well done to all three!
Saturday 5th March were the Welsh Athletics Annual Awards where the club won two awards. Firstly we would like to thank and congratulate all our athletes, coaches, officials, team managers, trustees and other ancillary volunteers for all their efforts over Covid 19 to keep the club going in very difficult circumstances it was flattering to receive the award and reflects the hard work that goes on in front and behind the scenes to make us one of the largest and most successful clubs in not just Wales but the UK, congratulations to you all! In addition club volunteer Wendy Slade won the award for services to club development, Wendy is one of our key volunteers in the club that helps keep us going in the areas of coaching, team managing and officiating, congratulations Wendy! Pictured receiving the awards with Wendy are other club dignitaries, Nigel Jones, Catherine Collins, Joseph Brier, Wendy Slade & Brian Fox.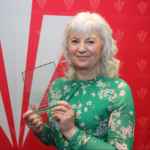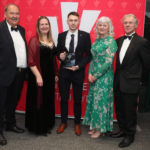 The weekend of Saturday 5th & Sunday 6th March were the British Masters Indoor Championships and outdoor long throws winter championships held in Lee Valley, London, where three of our masters athletes were in action M65 David Margison won a fantastic GOLD in the 60m recording 8.44; M50 Peter Roberts won a superb SILVER in the Discus with a throw of 36.28m and to M65 Chris Pruski won won his first and our second GOLD with a throw of 28.45m in the Javelin, congratulations to all three!
Sunday 6th March was the Newport Half Marathon where we had just the one runner M50 Simon Brewer recording a time of 1.20.53 placing 36th, a lifetime best well done Simon!