Results Round Up
This week we have results to round up for you from Swansea & Copenhagen Denmark.
Sunday 17th September was the Swansea Bay 10km, 3km & 1km. What a difference a week makes, regarding the weather at least, where it was non stop rain for the 10km but more bearable in the junior races. As with the last 40 years of this race there was a massive turnout from the club. Congratulations to all those who ran getting plenty of great results in the very unhelpful weather conditions, here are our top five finishers in all the races.
1km Boys saw brand new member Jenson Achilleos take the victory in 3.40 by just 1 second from Joshua Hobbs 3.41 followed home by 5th Efan Williams 3.58, 6th Gethin Jones 4.01 and 7th Oliver Griffiths 4.04.
1km Girls we had 4 runners and saw Eva Bezodis step onto the podium in 3rd 3.59, just behind in 4th was Sofia Morgan 4.09, followed home by 29th Maya Petkova 5.26 and making her club debut Tia Morris 5.59.
3km Boys saw Jack Sullivan crossing the line in the BRONZE medal position in 10.30, next home was 6th Isaac Mcadie 10.52 followed home by 10th Bo Cuthbertson 12.04; 16th Jack Griffiths 12.42 and 50th Osian Roberts 15.21.
3km Girls saw two athletes on the podium with SILVER medallist Chloe Hartley-Green 10.17, BRONZE medallist Millie Pierce 10.51 followed home by 5th Lyla Jonsson 11.52, 7th Hannah Sullivan 12.32 and 10th Tabitha Ventress-Brett 13.17.
Photo courtesy of Paul Stillman again this week: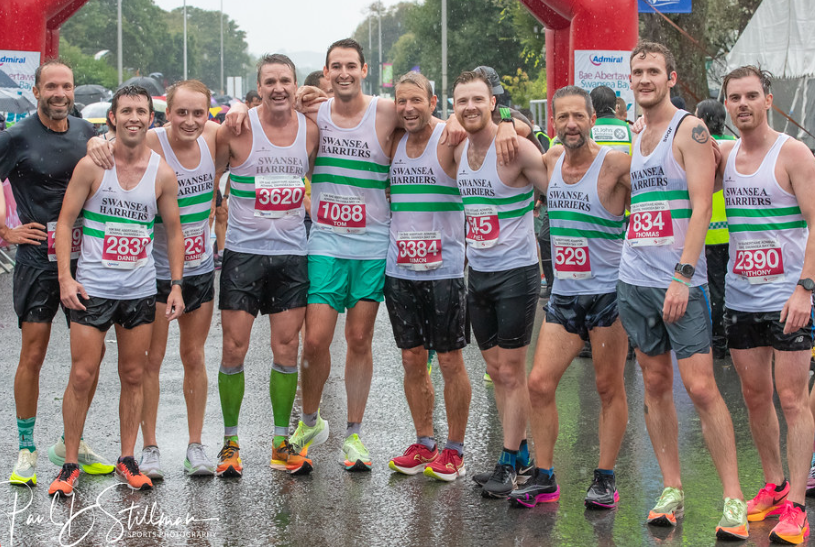 10km Men saw Dewi Griffiths break the 30 minute barrier yet again placing BRONZE in 29.53, following Dewi home were 4th Jonathan Butler 30.35; 7th Matthew Rees 31.32; 9th Paul Tobin 31.43 and 10th Matthew Harvey 31.46.
10km Women also saw Caryl Edwards get a 3rd place in 34.52, followed home by 6th Kate Roberts 36.15; 8th Hannah Williams 36.35, 11th Ashleigh Willis 38.35 and 12th Ava Davies 38.48.
Very well done to everyone who took part, click here for the full results.
Sunday 17th September M35 Geraint Williams runs 73.45 and M55 Andrew Hughes 1.57.08 in the Copenhagen Half Marathon in Denmark, well done both!