Results Round Up
This week we just have results to round up for you from Pembrey in the West Glamorgan Cross Country League.
Sunday 22nd October saw round 1 of 5 in the West Glamorgan Cross Country League held at Pembrey Country Park. This league is for seniors only and in conditions of wind, rain and sun over 500 athletes finished the races. Thank you and very well done to all those Swansea Harriers who were out once again representing the club in this fantastic grassroots league. It was the perfect start with both teams sitting at the top of their respective league tables, our scoring runners were:
Men: taking a comfortable win was 1st Joshua Griffiths, followed home by 2nd Matthew Harvey, 4th Matthew Verran, 5th Jack Turner and 16th Daniel Newton.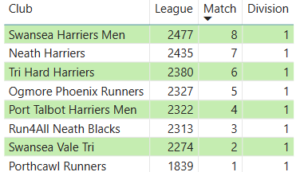 Women: having a great run for 2nd was Joanna Callan followed home by 8th Kristy Smith, 11th Sharon Leech, 15th Diane Brownhill and 43rd Caroline Morgan.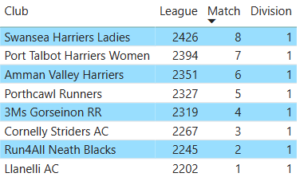 Very well done to everyone, click here for the full results Preliminary West Glam XC Round 1 Results (1)