Results Round Up
This week we have results to round up for you from Cwmtawe, Cardiff, Glasgow and Alton Towers.
Wednesday 8th November was the Afan Nedd Tawe Secondary Schools & Colleges Apollo Teaching Services 3 x 1100m cross country relays at Cwmtawe Community School. There was a fantastic entry of 110 teams, almost double from 2022 65 teams. Over a flat but very muddy course there were plenty of Swansea Harriers representing their school teams. Organisers are awaiting some schools declaration sheets, but here are the provisional results to date for your viewing 08.11.23 3 x 1100m Relay Results @ Cwmtawe
Saturday 11th November was round 2 of 5 in the John Collins Gwent Cross Country League at Cardiff incorporating the British Cross Challenge Round 1 fixture. There was another fantastic turnout of close to 80 runners from the club across all age groups. Thank you to all our runners and team managers who made it such a great day out. We have three teams placed top of their respective leagues and three other teams in podium places too, wow!! Our scoring teams of 4 juniors and 5 seniors were as follows:
U11B: are 6th out of 41 teams with 15th Jenson Achilleos; 23rd Finley Davies; 35th Bowen Davies & 53rd Jack Collins.
U11G are 3rd out of 42 teams with 3rd Poppy Brannigan, 5th Molly Mae-Mcqueen, 19th Freya Cleverly & 27th Sofia Morgan.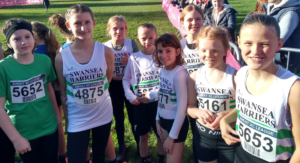 U13B are 7th out of 39 teams with 25th Isaac Mcadie, 31st Oliver Cobbold, 34th Jack Griffiths & 49th Ellis Bennett.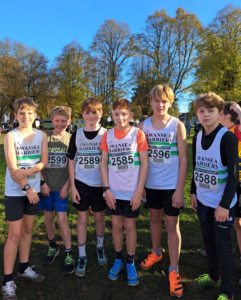 U13G are 7th out of 38 teams with 12th Lyla Jonsson, 37th Lucy Li, 38th Darcy Gibbon & 45th Gwennan Grufydd.
U15B are 10th out of 27 teams with the incomplete team of 17th Osian Morgan, 32nd Jack Sullivan & 34th Matthew Hines.
U15G are top of the league out of 36 teams!!! With having an amazing run for 1st Libby Hale & Cardiff Cross SILVER!, 3rd Holly Humphreys, 6th Millie Pierce & 8th Chloe Hartley-Green.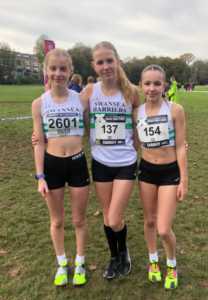 U17M had no runners.
U17W are top of the league out of 20 teams!!! With 3rd Sophie Hartley-Green, 4th Ava Davies, 16th Anna Williams & 35th Natalie Coughlan.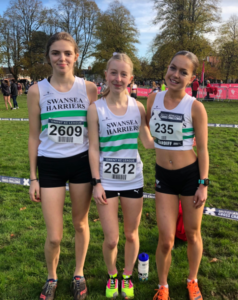 U20M are 10th in the league out of 20 teams with Dafydd Jones having an awesome run taking the win & Cardiff Cross SILVER in the process!
U20W are 3rd in the league out of 15 teams with the incomplete team of 8th Ella Davies & 24th Daisy Anderson.
Senior Men are 2nd in Division 1 with Dewi Griffiths having a great run for 3rd, followed home by 16th Morgan James, 23rd Matthew Rees, 35th Matthew Harvey & 40th Finley Hines.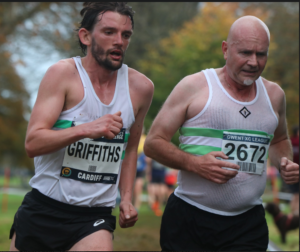 Great photo of two Swansea Harriers each running their own race. Dewi Griffiths mixing it with the leaders and Simon Merrick, a former 800/1500m runner from the mid 1980's who raced against Steve Ovett where he tripped up? The Ovett incident in 1985, completing his 210th consecutive Gwent League race. Photo by kind permission of Robert Gale.
Senior Women are top of the league in Division 1!!! With 16th Katie Roberts, 18th Gemma Tutton, 45th Joanna Callan, 49th Emma Baxter & 55th Bronwen Stratton-Thomas.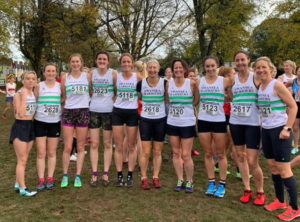 Thank you again to all those who ran and equally so those outside of our scoring runners as they are very much a vital element of the teams, preventing the other club team accumulating as many points by placing ahead of their scoring runners. Click here for the full team and individual results.
Saturday 11th November was the British Masters Cross Country International in Glasgow where three Swansea Harriers had the honour of representing Wales after making the very long trip. Very many congratulations to W40 Llinos Jones who placed 70th overall and 18th in her age group; W60 Sian Phillips 108th overall and 18th her category too and M60 Ifan Lloyd who had a superb run for 34th Overall and M60 SILVER!
Saturday 11th November Joshua Griffiths wins the Alton Towers 10km in 31.20, well done Joshua!