Results Round Up
This week we have results lots and lots to round up for you from Rhayader, Chester, Copenhagen Denmark, Bedford, Bristol, Swansea, Aberdare, Derby & Cardiff, including two Welsh Records!
Saturday 18th September was the Rhayader Round the Lakes Road 30km & 10km races, where the club had just the one competitor on the day in the 30km, M40 Damian Tyrrell who placed 183rd in 3:22.26, well done Damian.
Saturday 18th & Sunday 19th September were the English Schools Combined Events Championships at Bedford, U20W Carys Poole had a good day placing 19th in the heptathlon and amassing 3777 points courtesy of a 28.69 200m, 16.67 100m Hurdles, 1.53m High Jump, 8.07m Shot, 2.27.77 800m, 4.49m Long Jump & 23.82m Javelin.
Sunday 19th September was the 40th Swansea Bay 10km, 3km & 1km races, where as anticipated the club was very well represented across all races. In a great day of road running which was great to see with such a long absence since the last time. Congratulations to all those who were out representing the club, highlights included: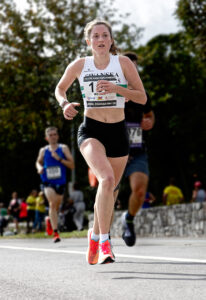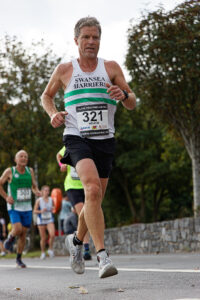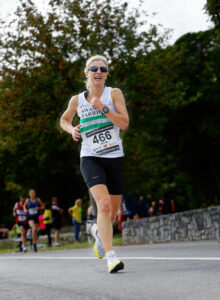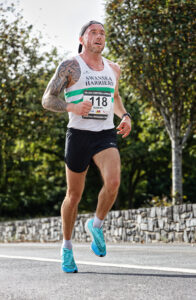 1km Boys: The days races got off to the perfect start with a win for U11B Jack Martin in 3.18, who was followed home by twin brother Ben Martin in 8th 3.51 and 10th Michael Powell 3.57.
1km Girls: was a clean sweep of the podium places with a win for Hannah Sullivan 3.28; 2nd went to Tabitha Ventress-Brett 3.40; 3rd Hannah Hartley-Green 3.43 and they were followed home by 12th Seren Jones 4.42.
3km Boys: Jack Sullivan was our sole competitor placing 12th in 13.00.
3km Girls: saw another win this time from Libby Hale 10.38, joining her on the podium was 3rd Ava Davies 10.54, followed home by 4th Millie Pierce 11.06; 5th Chloe Hartley-Green 11.29; 7th Sophie Hartley-Green 11.39; 19th Megan Pyke 16.25 and 22nd Eden Williams 17.17.
In the 10km field of over 2,300 finishers plenty of season and personal bests were set, our top ten Men and Women home were:
10km Men: having a great run for 3rd was Dewi Griffiths 30.12 followed home by 8th Jonathan Butler 32.14; 12th Angus Maclean 32.57; 30th  Daniel Otteson 34.48; Ifan Lloyd 35.08; Iwan White 35.25; Steven Taylor 36.49 and Andrew Cleverly 36.16; Simon Brewer 37.15 and Benjamin Sullivan 38.20.
10km Women: having a great run too for 5th was Megan Carter-Davies 36.29; 11th Helen-Marie Davies 39.58; 16th Jessica Smith 42.21; 21st Sophia Harrison 44.06; 24th  Julie Hartley-Green 44.42; 30th Nina Brocklebank 45.30; Kelly Gipson 46.32; Daisy Anderson 48.28 and Tina Gabb 51.42.
Very well done everyone! Click here for the full 10km results.
Sunday 19th September was the Bristol Half Marathon & 10km in the 10km Matthew Rees had a superb run to finish 3rd in 32.14 and in the half marathon Geraint Williams also stepped onto the podium in 3rd with a time of 75.34 and M50 Christopher Jones recorded a time of 1.56.43.
Sunday 19th September SM John Moran ran 79.55 over the Half Marathon distance at Chester.
Sunday 19th September M55 Brian Stevendale ran a 93:02 lifetime best in the Copenhagan, Denmark Half Marathon, well done Brian!
Tuesday 21st September was the Aberdare Throws only match where U15G Matilda Quick threw a 9.85m Shot; U15B Lewie Jones threw a 41.69m Discus & 48.16m Javelin; U17W Lucy Harris a 32.70m Discus and SW Rachel Jones a 29.67m Javelin. Very well done to all four.
Saturday 25th September was the U17 British Schools International held at Derby, where the club had twelve juniors selected making up a significant chunk of the entire Welsh Squad, against England, Scotland & Ireland which was a fantastic and well deserved achievement for them all. The event had moved from its' traditional July date due to the disruption caused by Covid. All of the athletes gained invaluable international experience coming away with the following excellent set of results; Joseph Beresford was 7th in the 400m Hurdles 61.31; Tiffany Rees 6th in the 800m 2.20.49; Dylan Morgan had a busy day finishing 4th in the Triple Jump with 12.86m, won  a magnificent BRONZE in the 100m which would have been a club record too if it hadn't been for a slight illegal following wind in 10.86, however he did win GOLD as part of the 4 x 100m relay team in an amazing time of 41.60 which was an all time Welsh Record!; Megan Gwyther was 4th in the 80m Hurdles 11.92; Aled Tumelty was 7th in the 1500m Steeplechase 4.52.80; Millie Carter won a superb SILVER with a 3.30m jump in the Pole Vault; Lucy Harris threw 29.82m for 8th in the Discus; Matilda Quick competing up an age group threw 10.91m for 8th in the Shot and jumped 1.53m for 5th in the High Jump; Chloe Jones threw 38.70m for 7th in the Javelin;  another GOLD medal came from William Trott in the Pole Vault with a best of 4.45m conforming his UK number one ranking and warm favourite tag; Harry Newton finished 7th in the Pole Vault with a best of 3.50m and George Snaith threw a 48.63m Javelin for 7th. Very many congratulations to them all on such a great days work!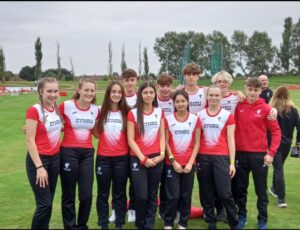 Sunday 26th September was the Welsh Masters Track & Field Championships held at home in Swansea for the 35 to 80+ age groups. Eleven of our superstar masters were in action, and every one of them came away with at least one medal and several in many cases!
M70 David Jones SILVER Hammer 18.96m, BRONZE 6.50m Shot, BRONZE 13.16m Discus; M75 Ian Bowles GOLD 10.74m Weight Throw, GOLD 24.46m Hammer, GOLD 26.24m Discus, SILVER 7.89m Shot; W70 Daphne Marler GOLD 4.35m Triple Jump, GOLD 1.77m Long Jump, GOLD 26.17 100m GOLD 8.64m Hammer; W45 Jennie McAdie GOLD 3.01.31 800m, GOLD 6.13.22 1500m; M55 Robin Wood BRONZE 29.93 200m, SILVER 14.30 100m, GOLD 4.42m Long Jump, GOLD 9.31m Triple Jump; M60 Roderick Davies GOLD 14.72 100m, SILVER 29.74 200m; M65 Chris Pruski BRONZE 15.77 100m, GOLD 29.94m Javelin, GOLD 22.90m Discus, GOLD 8.14m Shot; W65 Renate Prells GOLD 9.28m Weight Throw, GOLD 25.14m Hammer, GOLD 17.72m Discus, GOLD 6.46m Shot; M50 Paul Flynn GOLD 18.03.45 5000m, GOLD 10.41.08 3000m; M60 Robert Jones GOLD 29.15m Discus; M60 Ifan Lloyd GOLD 4.55.29 1500m, GOLD 17.15.03 5000m which was also an all time Welsh Masters M60+ record, well done Ifan! Click here for the full results.
Sunday 26th September was the Cardiff Bay 10km incorporating the Welsh Championships where in a field of over 3000 finishers, in the Men Dewi Griffiths had another great run to finish 5th 30.17 picking up the BRONZE medal as the third Welsh finisher in the process! Dewi was followed home by 13th Paul Tobin 32.03; 15th Phil Matthews 32.17; 60th Daniel Morgan 37.11 and 629th Christopher Jones 49.40. In the Women we had just the two runners first home was 12th Llinos Jones 41.21 and next was 15th Sharon Leech 41.46. Congratulations to them all, click here for the full results.