Results Round Up
This week we have results to round up for you from London and a belated club record now ratified.
Sunday 3rd October was the London Marathon & London Mini Marathon where the main highlight was undoubtedly an 8th place for Joshua Griffiths in a lifetime best of  2:13:39, finishing the second British runner and gaining European Athletics Championships and Commonwealth Games qualifying times in the process, congratulations to Joshua on such a fantastic race, just missing out on a world record for the combined father & son marathon too with his dad Nick! Following Joshua home were eleven more Swansea Harriers; Craig Jones in 2:53:34 a lifetime best; Emily Marchant having a great run for 63rd in 2:56:36 a lifetime best; Drew Bartle in 2:57:41 a lifetime best; Daniel Newton in 2:58:14 Paul Flynn in 2:59:04 a lifetime best; Helen-Marie Davies in 3:13:58  Ben Curtain in 3:19:30 a lifetime best; Raul Reismann in 3:20:36; Julie Hartley-Green in 3:44:16 a lifetime best; Christopher Jones in 4:17:56; and Kelly Gipson in 5:10:14, very many congratulations to them all.
Sunday 3rd October saw four Swansea Harriers selected to represent Wales in the London Mini Marathon covering the last 2.6km of the London Marathon route, they started at Temple Place and finished at the world-famous Finish Line on The Mall, competing against Scotland & Ireland, nine English regions and thirty three London boroughs. Congratulations to our three U13G Libby Hale who had a superb run to finish 2nd in 8:53, who was followed home by 20th Millie Pierce 9:23 and 34th Chloe Hartley-Green 9:36; our fourth international was U17W Ella Davies who placed 63rd in her age group in 9:45, very many congratulations to all four on their Welsh vests, they were much deserved!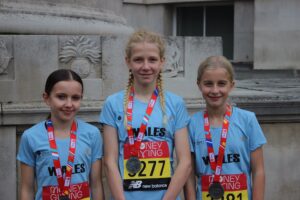 Back on the weekend of Saturday 28th & Sunday 29th August saw SW Lauryn Davey set a new all time club record for the Heptathlon at Sport City Manchester, our belated congratulations to Lauryn on this fine achievement, now that the club committee have ratified the record. Lauryn amassed 5180 points courtesy of, a 25.89 200m; 2:20.12 800m; 14.76 100m Hurdles; 1.62m High Jump; 5.55m Long Jump (w); 11.52m Shot and a 35.28m Javelin!