Results Round Up
This week we have results to round up for you from Milton Keynes, Afan Valley & Brecon, as well as news on a retention and development initiative for our U17 & U20 regular competing club athletes.
Saturday 13th November saw round 2 of the British Cross Challenge series held at Milton Keynes where U13G Libby Hale was our sole representative across all age groups, where she had an awesome day to win the U13G race over the 2.7km distance, making it two wins out of two for the cross challenge series, well done Libby!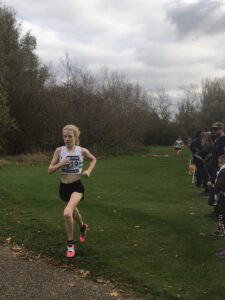 Saturday 13th November was the Afan Valley Multi Terrain Half Marathon where the club had three runners held over a very challenging course, first home for the Men was John Moran having a fantastic 5th place finish in 1:28.31 followed home by 82nd Simon Coombes in 1:51.02 and finishing 24th Women was Vanessa Harrigan in a time of 2:07.34, well done all!
Sunday 14th November was round 2 of the John Collins Gwent Cross Country League held at Brecon.
The U11B team was led home by 18th Oliver Hale; then 26th Isaac Mcadie; 45th Edward Lyle-Williams; 55th Riley Edwards; 58th Ioan Hawker & 60th Harry Davies. The team are doing well placed 5th in the league.
The U11G team was led home by Ella Drew having a superb run for 2nd; followed home by 9th Hannah Sullivan; 26th Hannah Hartley-Green; 37th Mia Rabaiotti and 41st Luisa Rabaiotti. The team are doing an amazing job at the top of the league table!
The U13B team had two finishers 41st Osian Morgan and 72nd Rhys Hawker; the team are now mid table 21st in the league.
The U13G was led home by Libby Hale in 1st following her win in Milton Keynes the day before, well done Libby! Having great runs too for top ten placings were 3rd Millie Pierce and 5th Chloe Hartley-Green; followed by 12th Holly Humphreys; 63rd Imogen Mcadie; 69th Tabitha Ventress-Brett; 77th Sophie Pennio; 79th Ellie Pennio; 8th Levinia Sexton & 88th Ellie Brewer. The team are equally as amazing as the U11G also sitting top of the league table.
U15B Gavin Alexander was our sole runner in 32nd and 16th in the league.
U15G Ava Davies had a great run for 4th followed home by; 21st Sophie Hartley-Green; 37th Matilda Topliss and 47th Natalie Coughlan. The team are in a very solid 6th in the league, after two fixtures.
U17M had two finishers Aled Tumelty in an excellent 5th and Ben Sullivan in 14th, the team are in a superb podium place of 3rd in the league.
U17W Mai Davies had a superb run leading the team home in 3rd, followed by 8th Ella Davies and 29th Daisy Anderson, the team are doing really well just outside the top three in the league in 4th.
U20M No runners.
U20W Sophia Harrison was our sole representative in a great 4th and her team are holding onto 3rd in the league.
Senior & Masters Men were led home by Daniel Ottesson in 50th followed by; 57th Matthew Verran; 77th Daniel Morgan; 102nd Josh Parry; 120th Alex John; 124th Steve Smith; 199th Simon Brewer; 209th Owen Davies; 214th Charles Walsh; 241st Gair Mcadie; 284th Simon Merrick; 317th Christopher Jones; 334th Damian Grinter & Anthony Clements. The team are 8th in the league.
Senior & Masters Women were led home by 91st Julie Hartley-Green followed by; 102nd Isobel Dawson; 118th Jenny Mcadie and 156th Tina Gabb taking them to 9th in the league.
Click here for the full individual results and league tables. Fixture 3 incorporates the West Wales Championships at Pembrey Country Park on Saturday 4th December.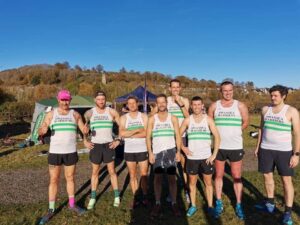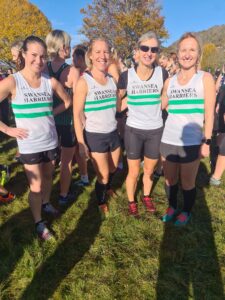 Sunday 14th November saw the launch of a new initiative aimed and retaining and developing our regular competing U17 & U20 athletes across all event disciplines in partnership with Swansea University specialists in Strength & Conditioning coaches. Good luck to all those invited & eligible to attend, and we look forward to plenty more seasons and personal bests as a result!