Results Round Up
This week we have fantastic news on four of our athletes being selected for the Commonwealth Games as well as results to round up for you from Watford, Swansea and a GOLD medal in the World Youth Championships in Gothenburg Sweden.
Congratulations to the awesome foursome who have been named in the Welsh team to compete in the Commonwealth Games this summer in sunny Birmingham: Dewi Griffiths in the Marathon, Jonathan Hopkins in the 3000m Steeplechase, Hannah Brier in the 200m & Joseph Brier in the 400m, all four will be added to our hall of fame…again!
Belated congratulations to U17M Evan Cole & U17W Rebekah Pratt who were awarded our Youth Development League Athlete Of The Match awards for the second fixture, back on Sunday 29th May in round 2 for their efforts for their results competing for the team as well as performing well in several events each, congratulations both!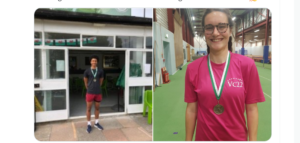 Wednesday 15th June SM Leon Greenwood runs a 21.78 over 200m in Watford, well done Leon!
Saturday 18th June was the World Youth Championships where U17W Hannah Kinane just misses our all time U17W 400m club record by 0.01 of a second recording a time of 58.11, and was less than half a second off the 800m record too, recording a time of 2.11.24 the day before to win an awesome GOLD, well done Hannah!
Saturday 18th June was the Welsh Athletics Open meeting at home in Swansea, in wet conditions the track events were held outdoors and the jumps indoors, well done to all those who took part, highlights included our overall top performer in each age group and event as follows:
U17W Megan Gwyther 11.91 80m Hurdles; Liane Do Rouys 9.71m Triple Jump; U17W Bethan Holley 1.40m High Jump & 14.04 100m; Lili Wade 32.12 200m and Amy Beynon 3.00m Pole Vault.
U17M Marek Warzocha 11.47 100m; Evan Cole 23.48 200m & 1.65m High Jump and Charlie Shuall 3.40m Pole Vault.
U20W Ella Davies 13.81 100m & 28.63 200m.
U20M Owain Clarke 11.67 100m; Joseph Beresford 23.71 200m and Samuel Davies 1.95m High Jump.
SW Alicia Samuel 12.69 100m and Ruth Bowe 30.41 200m.
SM Kelvin Tannor 11.06 100m and  Jack Houghton 23.21 200m.