Results Round Up
In what was a very, very busy weekend for our athletes and volunteers we have lots of results to catch up on from; Aberdare, Swansea, Woodford, Cardiff, Porthcawl, Swindon & Tenby, including yet another all time club record!
Tuesday 28th June was the Aberdare throws open meeting where U17W Lucy Harris threw a 36.76m Discus; U17M Ben Fenwick 29.57m Hammer; SW Zoe Dakin 39.64m Hammer and M65 Chris Pruski 27.52m Javelin, well done all!
Saturday 2nd July was round 3 of the Senior Men & Women National Athletics League @ Woodford, London after another overnight stay the squad put in another really solid team performance to place 5th on the day, and now lie in 10th in the league table progressing to the B final for the final fixture on 20th August in Bedford. Individual highlight included top 3 placings in the A string events by:
Men: 1st Thomas Walley 5.21m Pole Vault; 1st Patrick Swan 16.43m Shot; 2nd Osaze Aghedo 13.81m Triple Jump; 2nd Aaron Morgan 55.85m Javelin; 1st Kristian Jones 14.37.17 5000m and 3rd Femi Akinbobola, Jack Houghton, Steffan Dylan Jones, Jacob Wilkinson 3.24.32 in the 4 x 400m.
Women: 2nd Lili Church 1.67m High Jump and 2nd Millicent Fakande 57.05 400m.
Our sincere thanks to the whole team, officials and team managers who had to make yet another very long journey all mucking in to support the team, click here for the full results.
Saturday 2nd July was the Welsh Schools U15 U17 & U20 Championships @ Cardiff where our juniors were representing their school district team for which in most cases this was Afan Nedd Tawe. Well done to all those who took part in this great grass roots event. Highlights included medal winning performances set by:
20 GOLD: U20M Joseff Lewis 3.10m Pole Vault; U20W Millie Carter 3.60m Pole Vault; U17W Amy Beynon 3.00m Pole Vault; U20M Ryan Price 12.60m Triple Jump; U20M Owain Clarke 60.69 400m Hurdles; U15G Matilda Quick 10.96m Shot & 1.62m High Jump; U20M George Snaith 44.87m Javelin; U20M Dylan Morgan 22.36 200m & 10.96 100m; U15G Libby Hale 4.43.66 1500m; U20W Jasmine Hale 9.49m Shot; U17M Macsen Holland 40.82m Javelin; U15B Cai Allen 3.10m Pole Vault; U15G Seren Anderson-James 2.40m Pole Vault; U20M Samuel Davies 1.95m High Jump; U20M Ben Sullivan 7.06.80 2000m Steeplechase; U20W Ella Davies 2.26.36 800m; U17M Evan Cole 14.07 100m Hurdles and U20M 4 x 100m Joshua Kenny, Owain Clarke, Samuel Davies & Dylan Morgan 44.82.
11 SILVER: U15B Cai Allen 5.58m Long Jump; U17M Charlie Shuall 3.40m Pole Vault; U17W Lucy Harris 36.00m Discus; U17M Marek Warzocha 23.33 200m; U20W Chloe Jones 35.11m Javelin; U15G Ashleigh Gibbons 8.92m Triple Jump; U20W Ella Davies 62.07 400m; U15B Macsen Holland 28.86m Hammer; U15G Nele Owen 21.48m Hammer; U17W Megan Gwyther 12.21 80m Hurdles and U17M 4 x 100m Harry Collins, Evan Cole, Dafydd King & Marek Warzocha 45.81.
10 BRONZE: U17M Dafydd King 3.20m Pole Vault; U20W Emily Collins 28.44m Hammer; U17W Lili Wade 55.39 300m Hurdles; U17W Rebekah Pratt 35.99m Hammer; U17W Liane Do Rouys 9.60m Triple Jump; U17M Macsen Holland 11.54m Shot; U17W Natalie Coughlan 6.32.65 1500m Steeplechase; U15G Jemima Brown 2.30m Pole Vault; U17M Marek Warzocha 11.69 100m and U15G Efa Williams 24.57m Javelin.
Very many congratulations to all those who took part, click here for the full results.
Sunday 3rd July was the Porthcawl 10km where we had five finishers; 10th Matthew Verran 34.48; 22nd Daniel Morgan 36.20; 26th Alex John 36.46; 27th Steven Taylor 36.51 and 65th Owen Davies 38.47, well done all!
Sunday 3rd July was round 3 of the U13 & U15 Youth Development League @ Swindon where the team put in another improved performance but unfortunately not quite enough to avoid going into the relegation match on Saturday 30th July at Yate. At Swindon the team amassed 403 points to place 3rd on the day and finish the league in 5th out of 6 teams. Important at Yate that the Boys are out in full supporting the Girls teams so that we can try and remain in the top division please. Individual highlights at Swindon included an all time club record for U15G Libby Hale recording a time of 2.13.8 congratulations Libby! And A string wins for U15B Oliver Philpott 3.20m Pole Vault; U15G Seren Anderson-James 2.40m Pole Vault; U15G Matilda Quick 10.62m Shot; U15G Efa Williams 19.64m Discus; U13B Sean Strevens 1.40m High Jump; U13G Georgie-Bo Davies 4.10.7 1200m and U13G Mandida Rushesha 1.36m High Jump.
Our thanks to all those athletes that made the trip to support the club and their team mates, click here for the full results.
Sunday 3rd July was the Tenby 5km, 10km & Half Marathon where Wales hosted a Festival of Running at Masters International. Many athletes represented England and Wales in an international match across three distances: 5km, 10km and half marathon and four age groups: 35-44; 45-54; 55-64 and 65+ for both men and women. The match was scored with the first four home from each team in each age group in each race with a cumulative total across all races determining the winner. All three races were held on challenging courses. Swansea Harriers was well represented, with the following athletes selected to run for Wales: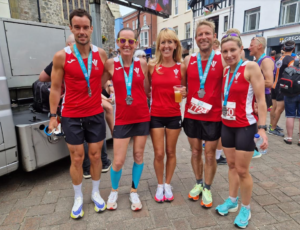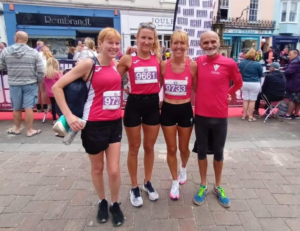 5K
V35-V44 Sian George 19:14
V45-54 Helen-Marie Davies 19:39 3rd in category
V45-54 Nina Brocklebank 22:17
10K
V35-44 Ben Williams 33.54
V65 Alan Davies 39:51 1st in category (calf went at the start of the race)
Half Marathon
V35-44 Llinos Jones 1:32
V45-54 Sally Munro 1:35 (first race for Swansea Harriers)
V35-44 Craig Jones 1:23
V45-54 Simon Brewer 1:24 3rd in category
V55-64 Paul Llewellyn 1:33 3rd in category
Thursday 30th June For our senior endurance runners club championships now we have passed the end of June ending with the 3000m track time trial, June saw a busy month of Championship races including several 5ks, The Swansea Half marathon plus the superb team victory of the Mens Open team at the Castles Relay (for the first time in 20 years). The initial charge has calmed down and at this halfway stage the women's competition has got closer with Llinos Jones still leading, but fresh from 3k success comes Nina Brocklebank in 2nd place, closely followed by Helen-Marie Davies in 3rd. In the mens, Jonathan Butler still leads the away after a fantastic 14:40 in the SAFA 5k. Matthew Verran just holds 2nd place after a 9:18 run at the 3k TT with Steve Taylor (also holding the most points for participation) in 3rd. Still a lot to play for! Other notable performances in the 3k TT were Martin Kearns, who at age 62 ran a superb 11:30 which gave him the best age-graded time on the day of 9:05. Thanks again to all who ran and also to Brian and Paul our race officials plus Dan Newton, Tom Bacon and Danny Otteson for supporting on the night.
3k Time trial results:
Matthew Verran 9:18, Richard Copp 9:29; Andrew Cleverly 9:40; Sam Joseph 9:47; Steve Taylor 9:55; Anthony Jones 10:42; Owen Davies 10:44; Tom Morris 10:54; Mike Williams 11:01; Martin Kearns 11:30; Mark White 12:10; Andrew Downie 12:54
Ladies: Emma Baxter 11:23; Nina Brocklebank 12:44 Julie Hartley Green 13:00.
Next up of the July races : Aberavon 5k (6th) and Ammanford 10k (10th), the last 2 of which have entries still open here. Well done everyone, we're only half way there!