Results Round Up
This week we have results to round up for you from Tampere, Finland, Cheltenham, Winchetser, Aberdare x 2 Aberavon and Ammanford, including a silver medal at the world masters championships!
Tuesday 5th July sees us give many congratulations to club stalwart M55 Glyn Price who has won a SILVER medal at the World Masters Athletics Championships in Tampere, Finland with a magnificent vault of 3.80m against the very best masters vaulters in the world, just reward for decades of dedication! Click here for the full results.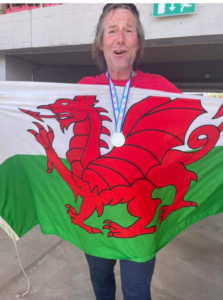 Wednesday 6th July at Cheltenham U20W Ella Davies runs a 4.52.99 for 1500m and her sister U17W Mai Davies a 4.55.44 also for 1500m, well done both!
Wednesday 6th July at Winchester SW Cerys Thomas throws a 50.72m for the Hammer, well done Cerys!
Wednesday 6th July was the Welsh Schools U14 & U16 Cup & Plate finals at Aberdare. Several of our athletes were participating for their school teams from Olchfa, Bishopston & Gwyr that had progressed to the finals of this popular competition where highlight included event wins in their respective cup r plate competitions for: U16G Bethan Holley 4.99m Long Jump; U14G Violet Snelgrove 17.84m Discus; U16B Lewie Jones 48.30m Javelin; U14G Holly Humphreys 45.87 300m; U14B Ruari Harris 12.42 100m and U14G Millie Pierce 2.26.72 800m. Very well done to all those who took part, click here for the full results.
Wednesday 6th July was the Run4 All Neath 5km at Aberavon where we had the four finishers; having a great run for 2nd was U20M Finley Hines in 16.17 who was followed home by 9th Steven Taylor 18.15; 12th Thomas Morris 18.43 and Gareth Robbins 22.41, well done all.
Sunday 10th July was the U15, U17 & U20/Senior Welsh Inter Regional Championships at Aberdare. Well done to all those athletes who were selected for their regional team, which for us, in the vast majority of cases was West Wales, helping the team to a 3rd place finish.
Highlights included individual event wins for U15B Cai Allan 2.80m Pole Vault; U17M Harry Newton 3.80m Pole Vault; U20W Tiffany Rees 61.01 400m; U17M Evan Cole 1.70m High Jump; U20M Samuel Davies 1.85m High Jump; SM Iwan Slade 3.30m Pole Vault; U15G Matilda Quick 10.32m Shot & 1.55m High Jump; SW Caryl Granville 59.97 400m Hurdles and U20M Owain Clarke 61.44 400m Hurdles. Well done again to everyone who took part, click here for the full results.
Sunday 10th July was the Ammanford 10km where, Sam Joseph was home first for the club in 5th in 35.41 who was followed home by 7th Joshua Morgan 37.19; 12th Steven Taylor 39.18; 15th Owen Davies 39.45; 19th Thomas Morris 40.04; 22nd Alexander Simpson 40.36 and we had just the two runners in the Women with 26th Hannah Williams 41.36 and 29th Emma Baxter 42.17, well done to everyone who ran for the club in the heat and hills of Ammanford!