Results Round Up
This week we have results to round up for you from Birmingham, Aberavon, Yate and yet another all time club record!
It was amazing to have four athletes selected for Wales in the Commonwealth Games and all four did themselves proud putting in a series of great runs, and are now cemented into our Hall Of Fame. All four were up against many of the very best athletes in the World and will take away the experience of a lifetime. The crowds were fantastic and it was a great Games even with such small teams selected from the Home Countries with the quota system. Dewi Griffiths was 11th in the Marathon, Hannah Brier progressed to the 100m & 200m Semi Finals, Joseph Brier made it to the 400m Semi Final and Jonathan Hopkins was 9th in the 3000m Steeplechase final. Well done to all four once again they did themselves and everyone at the club proud!
Meanwhile elsewhere:
Wednesday 3rd August at the Run4 All Neath 5k at Aberavon, Finley Hines had a great run to place 2nd in 15.44 and Joshua Morgan was just outside a podium position in 4th in 17.18; following them home were 12th Steven Taylor 18.09; 15th Thomas Morris 18.27 and 39th Mark Davies 21.25, well done to everyone who ran!
Sunday 7th August at Yate was the U17 & U20 Youth Development League Final. After a great season our squad did fantastically well to make it to the final in the first instance. At the time of posting the team scores are unavailable but we believe we finished in 5th or 6th just missing out on getting to the UK main finals. Thank you so much to all the athletes who represented the club this season and to our team managers, coaches and officials, yet another superb squad effort!! Individual highlights at Yate included; U20W Millie Carter breaking her own all time club record in the Pole Vault with a best of 3.70m, well done Millie!! U17W Lucy Harris A string win with a 33.77m in the Discus; U17M Lewie Jones won the Javelin in 53.92m and U20W Chloe Jones won her Javelin with a 32.16m throw!! Well done again to all those who took part, click here for the full individual results.  Additional congratulations at Yate go to U17M Tesfaye Shugi & U17W Lucy Harris were awarded our athlete of the match awards for their contributions to the team and from the previous match in Cheltenham back on the 26th June U17W Bethan Holley and U20M Joseph Beresford were awarded athletes of the March, what a team!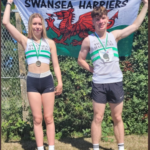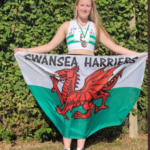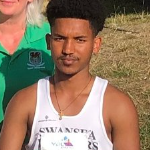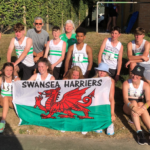 Sunday 7th August at the Barry Island 10km we had four Swansea Harriers in action, first home having a great run for a personal best, just missing out on a podium place was 4th Jonathan Butler in 31.22, followed by 8th Matt Rees in 33.05; Gemma Tutton was our only female runner finishing 6th in 39.33 and Steven Taylor was 61st in 40.15, well done all!