Results Round Up
This week we have results to round up for you from Cardiff & London as well as a review and report of our seniors off track summer club championships courtesy of organiser Owen Davies.
Saturday 1st October was the London Mini Marathon run along the final 2.6km of the main Marathon Route. Wales fielded teams in the U17, U15 & U13 age groups within the British Athletics Road Race Championships. It was fantastic to see four Swansea Harriers selected for Wales, with U15G Libby Hale finishing 34th in 9:15; U15G Ava Davies placed just behind in 37th in 9:16; Mai Davies was 65th in the U17W with a time of 9:38 and U13G Georgie-Bo Davies was 50th in her age group in 10:03. Very many congratulations to all the girls on the international call ups, a great experience to have in London! Click here for the full results.
Saturday 1st October was the Cardiff Half Marathon Junior Fun Run where we had four runners Millie Pierce was home first having a great run to place 5th in a time of 11.04, followed by 14th Joshua Morgan 5.38; 20th Taylor Shelmerdine 5.51 and 46th Anna Williams 6.28, well done everyone!
Sunday 2nd October in the Cardiff Half Marathon the club was one again well represented with 16 finishers amongst the 11,200+ that crossed the line, with Dewi Griffiths having another superb run to finish 8th in 64.15 and was followed home by 28th Matthew Rees in 69.59; 87th Sam Joseph in 77.28; 97th John Moran in 78.03 and Simon Brewer in 81.41 making our top 5. In the Womens race we had no runners. Very well done to all those who took part, click here for the full results.
Sunday 2nd October was the London Marathon, we had eight runners finishing we aware of. First home was Sioned Howells having a superb run to finish 30th Woman overall in a very fast time of 2:48:09; followed home by Emily Marchant having an equally impressive run to finish 43rd Woman in 2:50:16; then it was Llinos Jones in 3:00:50 for 117th; Ryan Govier was 4541st in 3:28:31; 4987th Simon Coombes in 3:31:51; 7167th Martin Kearns in 3:47:01; 2246th Julie Hartley-Green in 3:49:48 and 14905th Christopher Jones in 4:35:45. Very well done to them all on such a great set of results in one of the Worlds most iconic races.
Catching up with results, the Swansea 10k results showed some excellent progress from our athletes.
From the top end of the club perspective, it was great to see Megan Carter-Davies finishing top in the women with 35:17 (2nd female) closely followed by Kate Roberts (4th) in 35:29 and Olivia Gwynn 37:03. The results were littered with PBs – Hannah Williams knocking over 2 minutes off (37:45) and PBs for Lois
Woodward (44:08) Julie Hartley Green(44:19). I'm sure there were more PBs so if I missed you the results on Power of Ten will reveal some more exceptional results in the coming days I'm sure! In the men's it was a hard fought battle for Dewi Griffiths finishing second (29:36) and a superb finishing sprint from Matt Rees earning him a PB with 30:50. Marc Hobbs had an exceptional run with 31:37 (3rd in age cat) Welcome return for Jason Price too, who came up with 38:31 to claim 3rd in age cat. It was PB central in the mens as well with (so far) Daniel Morgan, John Moran, Tom Morris, Owen Davies, Michael Williams, Rabab Rabab, Kris Heaven, Andrew Downie all having significant PBs. Great to see Ifan Lloyd back racing with 35:53 – this translated to the top age graded time of the day – 28:41!!!
These results brough the Summer League championships right down to the wire. If you didn't see your result in there age graded, it's possibly due to  re-joining or brand new joining Swansea Harriers late in the season after the Championships started. Before the relays, it was still Steven Taylor leading the way with 203 points and it looked like it was going to be difficult to catch him with just two races to go. Especially as it was unlikely that anybody would run both the relays and the Llanelli half the day after!
Welsh Road relays 
It was gold for the Senior Mens A team (Marc Hobbs, Dewi Griffiths, Jon Butler and Daniel Rothwell) combined time 1:09:14 and the Senior Women's (Sioned Howells, Ella Davies, Sophia Harrison and Kate Roberts) with a combined time of 1:24:36. There was Bronze for V35 women's (Llinos Jones, Lois Woodward and Julie Hartley -Green) and Gold for V45 women (Diane Brownhill, Helen-Marie Davies and Rachel Allcock). Masters Mens V45 pipped the silver with Ifan Lloyd, Paul Flynn and Paul Llewelyn. All these times fed into the Champs age grading resulted in another heap of points for Jonathan Butler and Nina Brocklebanks time kept up the points difference between her, Helen-Marie Davies and Llinos Jones.
Add to this some impressive running at the Llanelli Half the following day: Womens Emma Baxter a SB 1:28:35; Luticia Thomas 1:29:20 and Kelly Gipson 1:48:49 age – graded down to 1:31. Mens Sam Joseph 1:15:43 (Sam also ran in an incomplete relay team the day before) Tom Morris 1:25:36 (PB) Paul Flynn 1:28:44.
All this made for a very close end to the Summer Championships. In the end it came down to training points. It has been fantastic to see so many get involved with racing and training with the various groups. It will be for others to look back and reflect on the success of the club as a whole, but from my perspective looking at results, seeing the outstanding progress from members old and new, sharing training tips and just being out there in club colours – this year has been fantastic. Well done everyone. A full and detailed rundown will be available at the Christmas do!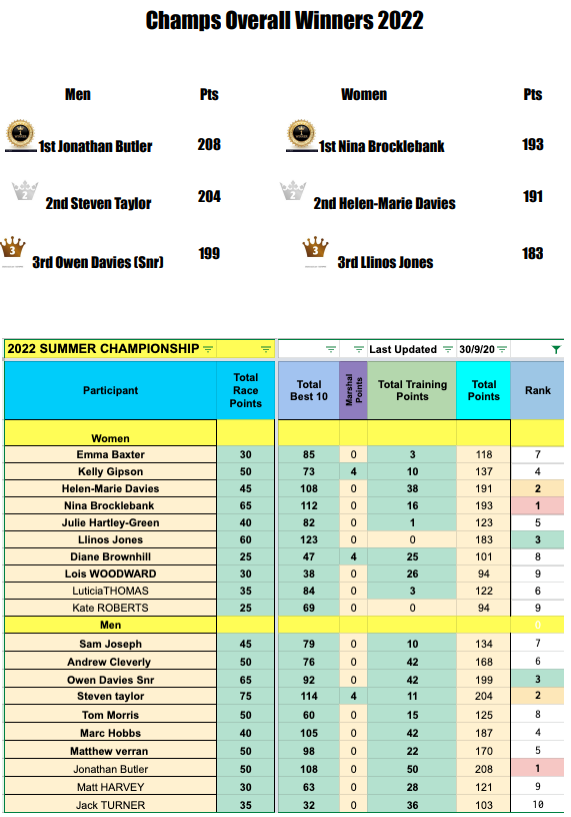 In the mens, it is easy to see Jonathan Butler's commitment, regularly training with the Senior men's group but also posting some superb times – e.g. 14:40 at SAFA 5k race 2 and 31:22 at Barry 10k. Even with our age-graded masters performances, he was still able to race regularly enough to grab the lead over Steven Taylor in the last week. Steve T literally put his body on the line, and it looked like racing through a stress fracture was going to prove enough (not just enough to finish him off!). A valiant return to training this week almost got him there, but 2nd place is still a great achievement, reaching PBs for 5k (16:47) and 10k (36:02) and marathon (2:49) this season. I had a good go catching the pair, with my own PB for 10k but in all honesty what's kept me going has been the spirit of competition and seeing the success of our athletes as a group.
In the Women's a hair's breadth separates Nina from Helen-Marie. Consistent park runs, training and racing key races kept her going. Age category wins at Aberavon and PPRC 5k (22:01 at both ) helped her amass enough points to keep ahead of Helen-Marie. HMD has raced the key races and trained hard around injury rehab. In choosing her races wisely, she managed to keep the pressure on and almost took the top place, despite being not quite at her best. Llinos has put out those key performances, winning her age category on numerous occasions and has been getting faster every race through the season, up to Swansea 10k with a SB 38:47.
And that ends the Summer Champs. Well done all!
Our Winter League club championships commences on Sunday 2nd October, starting with the Cardiff half Marathon which then leads us into the cross country season.