Results Round Up
This week we have results to round up from Manchester & Neath for you:
Sunday 9th October saw Kristain Jones takes a comfortable victory by over three and a half minutes in the Manchester Half Marathon recording a time of 63.46, in his final race preparations as he gets ready to compete for Great Britain & Northern Ireland for the World Mountain and Trail Running Championships, due to take place in Chiang Mai, Thailand between 3-6 November, well done Kris in Manchester and the very best of luck in Thailand!
Sunday 9th October was round 1 of 5 in the West Glamorgan Cross Country League at Gnoll Country Park Estate for our senior endurance runners. In ideal weather conditions we had a great day winning both the Mens and Womens individual races, courtesy of Matthew Harvey in the Men and Sioned Howells in the Women, amongst a field of over 450 finishers covering a hilly 5 mile route.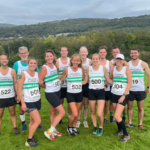 Following Matthew in the Mens race were; 37th Owen Davies; 39th Anthony Jones; 43rd Paul Flynn, 48th David Jones; 55th Jason Price; 88th Ben Smith; 94th Jamie Cameron; 106th Steve Smith; 146th Andrew Downie and 236th Tony Clements.
Following Sioned in the Womens race were 2nd Gemma Tutton; 6th Hannah Williams; 14th Helen-Marie Davies; 20th Diane Brownhill; 55th Nina Brocklebank; 73rd Charlotte Green and 82nd Angela Delaney.
We are awaiting the league tables but suspect the Women will be top three and the men somewhere between 5th to 7th both in division 1. Well done to all those who ran, league tables and athlete times will be available in due course.