Results Round Up
This week we have results to round up for you from Chester, Budapest Hungary, Cardiff, Bath & Gowerton…..
Sunday 2nd October Daniel Morgan runs a 2:55:77 PB for the Marathon in Chester, well done Daniel!
Sunday 9th October Millie Thorne run a 3:41:42 PB for the Marathon in Budapest Hungary, well done Millie!
Saturday 15th October was round 1 of 5 in the John Collins Gwent League incorporating round 1 of the British Cross Challenge series at Cardiff. For the second year in succession, this year's Cardiff Cross Challenge was the first fixture included in the World Athletics Cross Country and all races were streamed live on the day with commentary watch the live feed (over 4 hours) back on-demand as it happened here.
In windy weather with the occasional shower, there was a great showing from the club across all age groups, including quite a few mums and dads running too! Thank you to everyone who ran for us and to our team managers for getting all the age group teams sorted! Below is a summary of our scoring runners, who are the first four home in junior races and first five home in senior races, we have a few teams sitting in podium positions or very close to them!:
U11G: was an incomplete team of 23rd Poppy Brannigan, 48th Gwennan Gruffydd & 50th Sofia Morgan. The team are 12th in the league.
U11B: 15th Isaac Mcadie; 35th Nicolae Jiga-Boy; 45th Griff Jones & 54th Bo Cuthberston. The team are 6th in the league.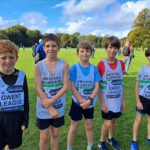 U13G: 11th Taylor Shelmerdine; 12th Ella Drew; 30th Hanah Jones & 51st Tabitha Ventress-Brett. The team are 4th in the league.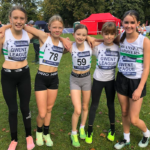 U13B: 22nd Osian Morgan; 27th Daniel Board; 34th Deri Jones & 44th Ellis Bennett. The team are 6th in the league.
U15G: saw the main highlight of the day for the club with a fine win by Libby Hale!! followed home by 7th Chloe Hartley-Green; 9th Holly Humphreys & 10th Ava Davies. The team are currently top of the league!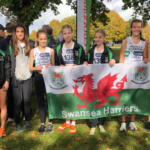 U15B: No runners.
U17W: 3rd Hannah Kinane; 10th Mai Davies; 16th Sophie Hartley-Green & 27th Jessica Hewitt. The team are doing very well indeed at the top of the league table!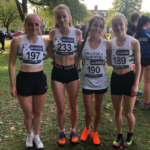 U17M: was an incomplete team of 27th Joshua Pritchard; 29th Steffan Higgins & 33rd Joshua Morgan. The team are 8th in the league.
U20W: Ella Davies was our sole runner in 11th, and 9th in the league.
U20M: Woody Rees was 18th and the team is 11th in the league.
SW: 8th Sioned Howells; 9th Kate Roberts; 11th Gemma Tutton; 23rd Sophia Harrison & 34th Llinos Jones. The team are 3rd in Division 1.
SM: 3rd Dewi Griffiths; 14th Morgan James; 17th Paul Tobin; 21st Luca Cotallese & 74th Andrew Cleverley. The team are 4th in Division 1.
Congratulations and thanks again to all those who ran for the club, click here for the full individual and team results.
Sunday 16th October was the Bath Half Marathon where M60 Ifan Lloyd was our sole runner where he placed 99th overall but 1st in his age group in a time of 1.18.39, well done Ifan!
Monday 17th October was the Afan Nedd Tawe Schools & Colleges come and try cross country development race at Elba, Gowerton. Where in sunny weather conditions 375 pupils ran who had been brought by their PE teachers. Our top three Swansea Harriers home in each race were:
YR7G 2000m 1st Taylor Shelmerdine (Bishopston); 2nd Ella Drew (Gowerton) & 4th Lily Stabler (Morriston).
YR7B 2000m 1st Thomas Mclean (Bishopston); 2nd Oliver Hale (Bishopston) & 8th Ellis Bennett (Olchfa).
YR8&9G 2700m 1st Millie Pierce (Olchfa); 2nd Chloe Hartley-Green (Bishopston) & 3rd Holly Humphreys (Gwyr).
YR8&9B 2700m 3rd Sam Rees (Gwyr); 4th Osian Morgan (Gowerton) & 6th Daniel Board (Gwyr).
YR10to14G 3000m 2nd Ava Davies (Olchfa); 3rd Sophie Hartley-Green (Bishopston) & 8th Gemma Hale (Bishopston).
YR10 to 14B 3000m 2nd Joshua Pritchard (Gwyr); 3rd Steffan Higgins (Bryn Tawe) & 5th Tesfaye Shugi (Bishop Vaughan).
Click here for the full results 17.10.22 Schools Development Meeting Results @ Elba