Results Round Up
This week we have results to round up for you from Chiang Mai Thailand, Cardiff & Cwmavon
Saturday 5th November saw Kristain Jones represent Great Britain & Northern Ireland in the World Mountain & Trail Running Championships in Chiang Mai, Thailand over the 40km race, where he had an absolutely superb day. 3 hours 17 minutes and 47 seconds later he crossed the line in 5th place and also came away with a team BRONZE! Well done Kris on yet another GB&NI vest we look forward to see him running for GB&NI and Wales again soon!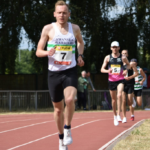 Sunday 6th November was the joint Welsh Schools & Welsh Athletics indoor combined events held at Cardiff. The age groups are a little different to normal with U14, U16 & U18 and we had a pretty good turnout on the day with lots of great performances set.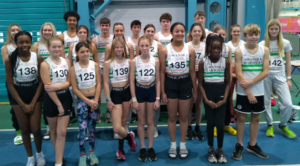 U14G Taylor Shelmerdine won a SILVER medal scoring 1733 points across her 4 events of 60m Hurdles, Long Jump, Shot & 800m, Mandida Rushesha was just outside the medals in 4th with 1642 points and Tabitha Ventress-Brett was our next highest in 9th with 1482 points out of the 8 girls we had competing.
U14B Sean Strevens was our lone competitor placing an excellent 4th with 1306 points from his 4 events.
U16G competed in 5 events, 60m Hurdles, Long Jump, High Jump, Shot & 800m and this was our main highlight of the day with a GOLD medal for Matilda Quick amassing 3137 points; Rebekah Saunders making her club debut was 9th with 2054 points and Phoebe Holt in 17th with 1581 points out of our six U16G taking part. Matilda also gained selection for Wales in the Schools International in Glasgow on 26th November V Scotland V Ireland V England due to her win!
U16B we had three entrants with Oliver Philpott placing highest in 5th with 2290 points; 10th Oscar Jones 1839 points and 13th Oliver Sampson 1426 points, the boys also competed in 5 events but had the 200m instead of the high jump.
U18W Bethan Holley had a great day to win BRONZE with 2944 points and will be joining Matilda in Glasgow for the Wales team, and Natalie Coughlan was our other U18W in 8th with 1107 points.
U18M Evan Cole was 6th with 2883 points amongst what was an extremely competitive field of opponents followed by 12th Sion Davies with 2507 points and 13th Marek Warzocha with 2489 points from our four entries.
Very well done to all our members who took part in one of the toughest events in athletics, all gaining invaluable experience, click here for the full results.
Sunday 6th November was the Richard Burton 10km in Cwmavon, over a challenging undulating course there was a great turnout from our seniors. In the Men's race Dewi Griffiths set a superb sub 30 time despite it being such a challenging course, his time of 29.54 was the fastest time and only sub 30 ever set in over 30 years, well done Dewi!! Dewi was followed home by 4th Jonathan Butler 32.06; 5th Finley Hines 32.15; 6th Will Munday 32.37 and 9th Matthew Harvey 33.33 all doing very well too for top 10 placings. In the Women our first four runners home were 11th Sophie Hartley-Green in 41.26 followed home by 12th Luticia Thomas 41.42; 13th Mai Davies 41.50 and 15th Sharon Leech 42.45. Very well done to everyone who ran from the club, click here for the full results.