Results Round Up
This week we have results to round up for your from Doha QATAR, Farnborough, Houston Texas USA, Manchester, Nantes FRANCE, Cardiff and (Pembrey).
Friday 20th January Michael Kallenberg in Doha Qatar runs a quick 2.23.02 over the Marathon to place 14th, well done Michael!
Sunday 22nd January Geraint Williams finishes in 14th place in the Farnborough Half Marathon in 73.29, well done Geraint!
Friday 27th January Macey Morris runs a 7.96 over 60m indoors in Houston, Texas USA placing 2nd in her heat, well done Macey!
Saturday 28th January at Sportcity Manchester SM Joseph Brier runs a fast 47.88 for 400m indoors to finish 3rd in the World Athletics Indoor Bronze meeting, well done Joseph!
Saturday 28th January in Nantes, France SW Hannah Brier runs a fast 7.41 for 3rd place over 60m in a World Athletics Tour meeting, well done Hannah!
The weekend of Saturday 28th & Sunday 29th January was the Welsh Senior & U15 Indoor Athletics Championships at Cardiff where there was a reasonable turnout from the club. Well done to everyone who competed gaining invaluable championships experience. Highlights included medal winning performances from: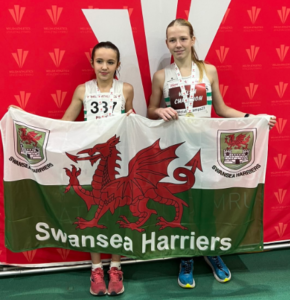 U15G: Libby Hale (4.33.20) 1500m GOLD and a new all time Welsh Record!!!!! & (2.13.68) 800m also inside the Welsh record but on this occasion amazingly only quick enough for SILVER!!!!  Millie Pierce (5.12.60) 1500m SILVER; Chloe Hartley-Green (11.20.10) 3000m BRONZE; Ruby Campion (2.36m) Pole Vault SILVER, Alice Prosser (2.11m) Pole Vault BRONZE
U15B: Tyler Davies (2.60m) Pole Vault GOLD; Kellen Heuberger (2.16m) Pole Vault SILVER
SW: Megan Carter-Davies (4.26.80) 1500m GOLD; Carys Poole (9.72) 60m Hurdles BRONZE; Millie Carter (3.26m) Pole Vault GOLD; Matilda Quick (1.61m) High Jump BRONZE,
SM: Ryan Price (11.72m) Triple Jump GOLD; Mitchell Lawrence (50.06) 400m SILVER; Ieuan Hosgood (4.23m) Pole Vault SILVER; Harry Newton (4.03m) Pole Vault BRONZE; Samuel Davies (1.98m) High Jump GOLD.
Click here for the full results.
Sunday 29th January was round 2 of the rescheduled West Glamorgan Cross Country League held in Pembrey Country Park, we are awaiting the individual results and league tables, therefore we will round these up next week. However we do have a team photo for you of some of those who ran for the club below: