Results Round Up
This week we have results to round up for you from Lee Valley London, Armagh, Houston Texas USA, Margam, Birmingham & Boston USA, Manchester, Zannstad NETHERLANDS, & Sheffield:
Wednesday 8th February SW Darcie Bass runs a 2.19.60 for 800m indoors at Lee Valley London, well done Darcie!
Thursday 9th February saw a world class field of runners gather in Armagh, Ireland for their annual 5km road races that have a very fast reputation. Five Swansea Harriers made the trip with first home Jonathan Butler in a fantastic 14.19 amazingly this time was only quick enough for 59th place! Jonathan was followed home by 105th Will Munday 14.45; 130th Finley Hines 14.58; 139th Marc Hobbs 15.10 and 141st Jack Turner 15.10. Very well done to all five on such quick times!
Friday 10th February SW Macey Morris runs a 25.27 for 200m indoors in Houston Texas USA, well done Macey!
Saturday 11th February was round 4 of the John Collins Gwent Cross Country League held at Margam Park. The fixture was hosted by ourselves. First and foremost we would like to thank all the volunteers who made the event possible, staking out the course Friday, then arriving 7.30am Saturday to tape out and finish the set up, then marshalling, leaving at 5pm after taking the course down and litter picking, we are eternally grateful for your support, most of all meeting manager Brian Fox who in addition to coordinating all of the above undertook a massive amount of paperwork to obtain licences, risk assessment, catering, first aid, portaloos and much more! On what was a hilly and soft underfoot course it was great to see so many athletes running for the club, very well done to:
U11B: had a huge turnout with 19th Isaac Mcadie; 27th Griff Jones; 28th Bo Cuthbertson; 38th Theo Lewis-Wright; 45th Oliver Griffiths; 50th Drew Smith; 55th Nicolae Jiga-Boy; 60th Tomi Jones; 62nd Elliot Lloyd & 77th Dhruv Mummigatti, the team have risen to 4th in the league!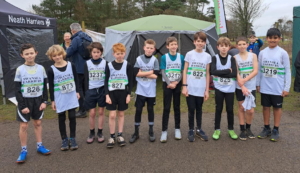 U11G: 23rd Poppy Brannigan; 42nd Gwenan Gruffydd; 57th Sofia Morgan & 58th Ruby Underwood, the team are now 13th in the league.
U13B: 12th Osian Morgan; 29th Elis Bennett & 30th Joseph Newton, the team lie 8th in the league.
U13G: 22nd Hannah Jones; 40th Tabitha Ventress-Brett & 43rd Aimee Besley, the team now lie 5th in the league.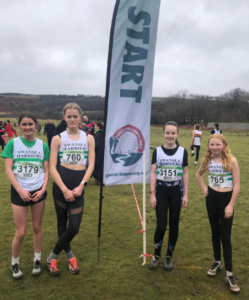 U15B: 27th Jack Sullivan and 42nd Matthew Hines, the team lie 24th in the league.
U15G: 10th Ruby Mills; 25th Lottie Robinson & 30th Imogen Mcadie, the team lie top the league table!!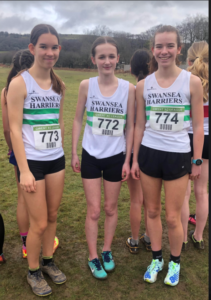 U17M: 10th Gavin Alexander; 11th Tesfaye Shugi; 15th Joshua Pritchard & 18th Joshua Morgan, the team lie 7th in the league table.
U17W: 6th Sophie Hartley-Green & 20th Daisy Anderson, the team lie 6th in the league.
U20M: having a great run for 2nd was Finley Hines and his team lie 5th in the league.
U20W: no runners.
SM: saw an amazing win by over a minute for Dewi Griffiths, awesome stuff! Followed home by  31st Blair McWhirter; 88th John Moran; 90th Josh Morgan; 91st Ake Fagereng; 116th Charles Walsh; 162nd Simon Brewer; 166th Owen Davies; 179th Ben Smith; 182nd Anthony Jones; 206th Gair Mcadie; 227th Simon Coombes; 242nd Simon Merrick and 258th Heath Brett, the team currently lie 8th in Division 1.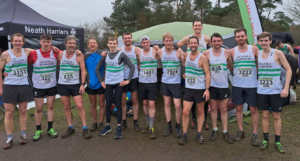 SW: 4th Gemma Tutton; 5th Sofia Harrisson; 23rd Emma Baxter; 109th Julie Hartley-Green; 122nd Jenny Mcadie and 140th Sian Phillips, the team now lie 5th in Division 1.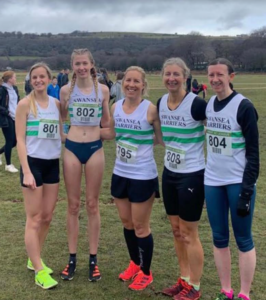 Click here for the full team and individuals results as well as league tables, our thanks also to the league for producing these within 24H of the last race finishing, very efficient!
Saturday 11th February SM Dominic Smith runs an 8.39.65 for 3000m indoors in Birmingham USA, well done Domonic!
Saturday 11th February SM Steffan Jones runs another fast 400m indoors clocking 48.58 in Boston USA, well done Steffan!
Saturday & Sunday 11th & 12th February were the England Athletics U15, U17 & U20 Championships at Sheffield, where to enter in the first instance athletes had to obtain some tough qualifying standards to compete against the best UK juniors where U20M Samuel Davies placed 10th in the High Jump with a best of 1.91m, very well done Sam!
Sunday 12th February SM Joshua Griffiths runs yet another sub 30 clcoking for 10km in Zaanstad Netherlands, well done Joshua!
Sunday 12th February at Sport City Manchester SM Lemarl Freckleton runs a 7.15 for 60m & 22.23 for 200m, well done Lemarl!