Results Round Up
This week we have results to round up for you from Sheffield, Brecon, Birmingham & Lee Valley London:
Friday 24th to Sunday 26th February were the British Universities Indoor Athletics Championships at Sheffield where we had plenty of our U20 & U23 athletes representing their universities: Kelvin Nti Tannor made it to the 20m Semi Final in (7.08) for 6th; 4th Sian Vico (8.12) 60m in her heat & (27.25) & for 6th in the 200m Semi Final; 7th Pheobe Davies (9.65) in her 60m heat; Femi Akinobola (23.03) 200m in his Semi Final in 3rd; Cerys Vico (59.71) for 3rd in her 400m heat; Niamh Jones (64.11) for 4th in her 400m heat; Joshua Morgan (4.30.27) for 7th in his 1500m heat; Darcie Bass (5.01.63) for 5th in her 1500m heat; Luca Cortellese (8.37.81) for 6th in his 3000m heat; Sophia Harrison (10.40.56) for 8th in her 3000m heat; Bronwen Stratton-Thomas (10.30.09) for 10th in her 3000m heat; Jack Houghton (8.79) 60m Hurdles for 5th in his heat; Lauryn Davey (9.09) for 8th in the Semi Final for 60m Hurdles & (5.42m) for 8th in the Long Jump Final and Gwennan Lewis (9.64) for 11th in her Shot qualifying pool. Well done everyone on such a great set of results!
Saturday 25th February at Brecon were the Welsh clubs cross country championships, held in ideal conditions over a twisty course. As for the indoor championships last weekend the scheduling of the event in half term had some effect on our number of runners, nevertheless a fine championships was held with quite a few medals won too!
Race 1 U11B: No Runners.
Race 2 U11G: saw Sofia Morgan place 19th.
Race 3 U13B: saw a brilliant team BRONZE for the quartet of 16th Osian Morgan; 19th Sam Rees; 20th Deri Jones and 28th Joseph Newton.
Race 4 U13G: we had two finishers 12th Georgie-Bo Davies and 36th Aimee Besley.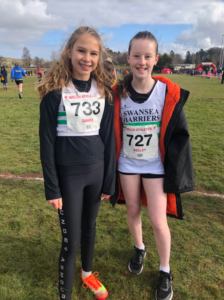 Race 5 Senior & Masters Women & Men 65+: saw our SW come home with a superb team SILVER with the quartet of 4th Gemma Tutton; 15th Emma Baxter; 21st Llinos Jones and 40th Graciela Diaz De La Fuente.
Individually M65 Alan Davies won GOLD & W50 Sian Phillips GOLD!
Masters Teams saw:
W35 team SILVER with the trio of Llinos Jones, Lois Woodward & Jennifer Roberts.
W40 team SILVER with the trio of Llinos Jones, Lois Woodward & Julie Hartley-Green.
Race 6 Senior & Masters Men: was the main highlight of the day with our super six scorers retaining our Welsh Champions title for GOLD and also saw Dewi Griffiths win the race for the 8th time!! The scoring team  were 1st Dewi Griffiths; 5th Daniel Rothwell; 8th Matthew Rees; 10th Morgan James; 12th Ben Mitchell and 13th Jack Turner!
Individually Dewi Griffiths won SM GOLD; M35 Daniel Rothwell GOLD & M35 Matthew Rees SILVER!
Masters teams saw:
M45 team SILVER with the trio of Charles Walsh, Simon Brewer & Owen Davies.
M50 team BRONZE with the trio of Simon Brewer, Paul Flynn & Martyn Hughes-Dowdle.
M55 team GOLD with the trio of Paul Flynn, Martyn Hughes-Dowdle & Paul Llewellyn.
Race 7 U15 Boys: No runners.
Race 8 U15 Girls: won a super SILVER with the quartet of 3rd Holly Humphreys and individual BRONZE; 9th Ava Davies; 10th Chloe Hartley-Green and 11th Millie Pierce.
Race 9 U17M: had two runners with Gavin Alexander in 21st & Joshua Morgan in 24th.
Race 10 U17W & U20W: No Runners.
Race 11 U20M: our sole runner was Finley Hines who had a great run for 4th.
Very well done to all those who ran for the club, click here for the full team and individual results.
Sunday 26th February SM Joseph Brier runs his 2nd fastest ever 400m time indoors clocking a very fast time of 46.88 in Birmingham, well done Joseph! For those of you who don't know yet, Joseph has once again been selected for Great Britain & Northern Ireland, again in the 4 x 400m in the European Indoor Athletics Championships in Istanbul TURKEY, commencing Thursday 2nd March, look out for more details exactly when his races are later this week. Also at Birmingham SW Millie Fakande runs a 8.07 for 60m and a 25.87 for 200m, well done Millie!
Sunday 26th February at Lee Valley London saw a Welsh Masters team compete in the inter area challenge. Representing Wales M55 Glyn Price placed 8th in the 60m Hurdles with 11.65 and won the Pole Vault with 3.60m!