Results Round Up
This week we have results to round up for you from Birmingham, Yate x 2, Stores USA, Newport & Chepstow…..
Saturday 15th April was the National Men's 12 Stage & Women's 6 Stage Road Relays @ Sutton Park, Birmingham, where the club has a rich history of success having medalled in both Mens and Womens races numerous times with the Men's teams winning in 1994 and 2017. There were no team medals this year but both our Men's and Women's teams were superb against the very best endurance club teams in the UK with our Men coming agonisingly close to a medal in 4th, this talented squad would medal most years, however all three teams in front broke the race record!! Our Women in an excellent 7th place. Before we note how they all got on, our sincere thanks to team manager George Edwards who has now stood down after over 30 years of taking the club to this event, our eternal thanks and gratitude for all you have done for us!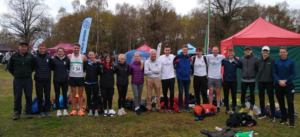 In the Men's race our team in running order were; Dafydd Jones, Jonathan Hopkins, Blair McWhirter, Luca Cortellese, Kristian Jones, Finley Hines, William Munday, Ben Mitchell, Dewi Griffiths, Paul Tobin, Jonathan Butler & Jac Hopkins. There were many of the UK's top names in the race and individually Kristian was our fastest over the long leg in 3rd overall 25.14, Dewi made the top 10 too with a 25.29 for 9th, over the short leg Jac was our fastest in 15.34. Very many congratulations to the whole team on such an awesome result, click here to see how they all got on!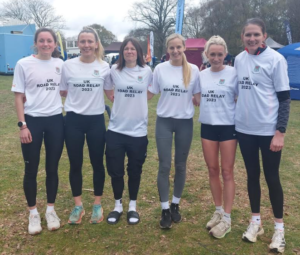 In the Womens race our super six in running order were; Gemma Tutton, Kate Roberts, Caryl Edwards, Megan Carter-Davies, Hannah Williams & Olivia Gwynn. Megan was our fastest over the Long Leg in 30,35 placing 18th overall and Kate our fastest over the short leg in 17.54 placing 9th individually and Olivia making the top 10 too, well done all click here for the full results.
Saturday 15th April was a Jumps & Throws Open Meeting @ Yate where SW Zoe Dakin threw 43.70m in the Hammer, U20W Rebekah Pratt pole vaulted 2.40m & threw 30.17m in the Hammer, U17M Ben Fenwick threw a 39.26m Hammer, U17M Lewie Jones recorded a 54.56m Javelin, 13.65m Shot and 35.25m in the Discus,  SW Phoebe Brown 40.34m Javelin, SM Iwan Slade pole vaulted 3.66m and U20W Lucy Harris threw a 36.10m Discus, well done all on such a great set of results!
Saturday 15th April at Stores USA, SM Steffan Jones runs  two quick times in the 200m 22.09 and 400m 47.87, well done Steffan!
Sunday 16th April was the Newport Marathon & 10km. In the 10km first home was Jack Turner in 8th overall in a time of 32.16, followed home by 9th Matthew Harvey 32.35, 143rd Sophie Hartley-Green 40.31, 215th Jennifer Roberts 43.21 and 236th Joshua Morgan in 44.17, well done all! In the Marathon first home was Llinos Jones in 4th just missing out on a podium spot with a 3.00.59, followed home by 10th Luticia Thomas 3.11.30; 380th Man Georges Videau and 76th Vanessa Harrigan 3.45.45, well done all!
Sunday 16th April was the Kymin Dash 7 Mile Multi Terrain Race near Chepstow where Sian Phillips was our sole runner finishing 35th SW & 2nd W60, well done Sian!
Sunday 16th April was the Sprints & Hurdles Open Meeting @ Yate where M65 Roderick Davies ran a 14.58 100m & 29.84 200m and SM Femi Akinobola ran a 52.22 400m, well done both!