Results Round Up
This week we have plenty of results to round up for you from Aberdare, London, Manchester, Devils Bridge, Yeovil, Gorseinon, Cardiff & Yate:
Tuesday 25th April was the South Wales throws only open meeting at Aberdare where U20W Lucy Harris threw another PB in the Discus of 41.46m, U17M Ben Fenwick broke the 40m barrier in the Hammer with a 40.70m, U20W Rebekah Pratt threw a 28.18m Hammer and M56 Chris Pruski a 28.54m Javelin, well done all!
Friday 28th April was the comeback 5000m track race at Battersea Park, London where U20M Dafydd Jones ran an excellent 14.27.18 to finish 16th in a top quality field, well done Dafydd!
Saturday 29th April until Monday 1st May were the British Universities Championships at Sport City, Manchester where many of our U20 & U23 athletes were in action competing for their university teams. Highlights included Kelvin Tannor 11.16 100m; Femi Akinbobola 11.61 100m; Daniel Knuckle 23.49 200m; Cerys Vico 59.35 400m; Sian Vico 59.26 400m; Darcie Bass 2.21.44 800m; Bronwen Stratton-Thomas 4.58.91 1500m; Luca Cortellese 3.59.07 1500m; Jack Houghton 15.99 110m Hurdles & 58.20 400m Hurdles for 6th in the final!
Stefani Karekla 74.15 400m Hurdles; Ieuan Hosgood 4.28m Pole Vault; Lauryn Davey 5.22m Long Jump; Ryan Price 11.68m Triple Jump and Phoebe Brown 35.50m Javelin. Well done everyone, click here for the full results.
Saturday 29th April was the Red Kite Challenge incorporating the West Wales and Welsh Trail Long & Junior Championships at Devils Bridge in Ceredigion where we had the three runners all in the juniors. U18 Mai Davies placed 6th overall and won West Wales GOLD, U18 Anna Williams was 18th and in the U16G Millie Pierce placed 3rd overall having an excellent run for Welsh BRONZE & West Wales GOLD! Very well done to all three in one of the toughest races around!
Saturday 29th & Sunday 30th April were the Somerset Combined Events & Race Walking Championships at Yeovil where we had three athletes in action. U17W Matilda Quick had a superb day in her first ever Heptathlon to win the event by more than 300 points amassing a total of 4310 points courtesy of a 12.25 80m Hurdles, 1.63m High Jump, 12.33m Shot, 26.81 200m, 4.86m Long Jump, 22.09m Javelin and 2:45.47 800m! U15G Mandida Rushesha was 12th  in her age group with a 14.34 75m Hurdles, 6.51m Shot,  1.42m High Jump, 3.92m Long Jump and a 3:25.15 800m to collect 1742 points and U15G Lauren Oshisanya was 18th with a 16.90 75m Hurdles, 7.48m Shot, 1.21m High Jump,  3.44m Long Jump and a 3:36.95 800m for 1241 points, well done all on some excellent results!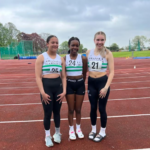 Sunday 30th April was the Gorseinon 10km, where our first runner home amongst close to 800 finishers was David Jones in 7th (30.04) followed home by 8th Hywel Longman 37.44; 14th Alan Davies 38.41; 27th Jamie Cameron 40.02 and 34th Simon Coombes 40.38 completing our top five, very well done to all those who took part, click here for the full results.
Sunday 30th April was the Cardiff 5km incorporating the Welsh Championships where we had some excellent runs and times recorded. Congratulations to Jonathan Butler on becoming Welsh Champion is a super fast time of 14.23 finishing 7th overall against some top class opposition, following Jonathan home in the Mens race was 15th Jonathan Hopkins 14.46 an excellent sub 15 time, 50th Matthew Harvey 15.41, 109th Andrew Cleverly 16.34 and 117th Matthew Verran 16.42 making our top five Men.
In the Women's race first home for the club was 12th Olivia Gwynn 17.04, 22nd Kate Roberts 17.26, 32nd Hannah Williams 17.41, 36th Ashleigh Willis 18.07 and 51st Llinos Jones 19.00 to complete our top 5 home.
Very well done to all those who took part, click here for the full results.
Sunday 30th April saw our U17 & U20 Youth Development League team in round 1 action at Yate where the team got off to solid start placing 4th behind, Team Avon 641 points, Cheltenham & County 438 points, East Wales 351.5 points the ourselves with 333.5 points and Cardiff Archers with 314 points. With the next fixture at home on 28th May we should be in a position to challenge for the top 2 with a few more athletes available. Our thanks to all the athletes who made the effort to support their club and team mates, individual highlights included A string wins for U20M Harrison Garcia 22.65 200m; U20W Emily Collins 22.28 100m Hurdles; U20W Lucy Harris 42.40m Discus; U20W Chloe Jones 38.58m Javelin; U17M Charlie Shuall 3.45m Pole Vault; U17M Lewie Jones 13.66m Shot; U17W Lili Wade 58.99 300m Hurdles and U17W Bethan Holley 9.86m Triple Jump. Thanks again to all those who took part, click here for the full results.