Results Round Up
This week we have results to round up for you from Cardiff, Oordegem Belgium, Manchester, Loughborough, Carmarthen and London!
Wednesday 24th May was the SSAFA 5km at Cardiff where we had six Swansea Harriers in action, having a great run to win the race was SM Jonathan Hopkins who crossed the line in a very quick 14.41, followed home by 7th Jack Turner 15.28; 8th Matthew Verran 15.38; 41st Andrew Cleverley 16.43; SW Kate Roberts had a superb run too stepping onto the podium for 2nd place with a fast 17.08 and 70th Steven Taylor in 17.28, very well done all on some great runs!
Saturday 27th May SM Joseph Brier runs a very, very fast 400m of 45.99 in Oordegem Belgium, well done Joe that's awesome!
Saturday 27th May U20M Dafydd Jones runs a super fast 5000m in 14.21.50 at Sport City Manchester and U20W Hannah Kinane a quick 2.13.55 for 800m, well done both in some very talented opposition in the BMC World Athletics Challenger fixture!
Saturday 27th May was the Loughborough Throws Pathway International where U20W Lucy Harris threw 36.89m in the Discus and U17M Lewie Jones threw a big 61.80m in the Javelin, well done both!
Sunday 28th May was round 2 of the U17 & U20 Youth Development League held at a very windy Carmarthen where the team had another solid result to place 3rd out of the five teams 1st Team Avon 579; 2nd Cheltenham & County Harriers 376; 3rd Swansea Harriers 336; 4th East Wales 324 and 5th Cardiff Archers 279 points. Our sincere thanks to all those who made the effort to support the club, many doing three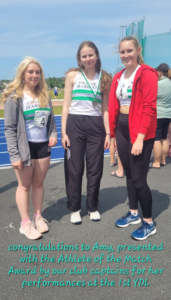 events each plus a relay, with a handful more athletes available we could of nipped into 2nd place. Individual highlights included A string victories for: U20M: Joseph Beresford 54.94 400m & 62.13 400m Hurdles; Samuel Davies 1.90m High Jump; U20W Mai Davies 10.39.48 3000m; U20W Lucy Harris 40.12m Discus; U17M Reuben De Vall 15.96 100m Hurdles and U17W Amy Beynon 2.75m Pole Vault who is also pictured being presented her athlete of the match medal from the previous fixture, presented by team Captains Emily Collins & Lucy Harris. Thanks again to everyone who took part, click here for the full results.
Monday 29th May in London, SW Hannah Brier made her 400m debut finishing in a very respectable 54.18 and SW Millie Fakande was also in the 400m running a quick 57.05 as was SM Lemarl Freckleton 49.35 and Mitchell Lawrence 49.64, well done everyone!