Results Round Up
This week we have results to round up for you from Newport, Street, Swindon, Cardiff and Gloucester:
Wednesday 31st May was the Welsh 3000m & 5000m Championships at Newport where SM Jonathan Butler maintained his rich vein of form coming home with the 5000m GOLD medal in 14.57.72, followed home by 5th Michael Kallenberg 15.25.92; 6th Finley Hines 15.46.25, 7th Jack Turner 15.47.73. U15B Osian Morgan placed 14th in the 3000m with a 11.00.44; U15G Libby Hale won 3000m GOLD with a 10.03.10, followed home by 7th Chloe Hartley-Green 11.15.16 and 10th Sophie Hartley-Green 11.31.28.
Saturday 3rd June was the British Milers Club PB Classic held at Street, where we had two runners SM Luca Cortellese finished 4th in his 1500m in a time of 3.58.74 and U15G Libby Hale was also 4th in her 1500m seeded race in 4.36.76, well done both!
Saturday 3rd June was round 2 of 3 in the U13 & U15 Youth Development League at Swindon, where the team had another solid result to finish 4th, despite numerous absentees due to half term holidays. The team now also lie 4th in the league 1st Cheltenham & County Harriers 12 league & 1122 match points; 2nd Swindon Harriers 8 league & 943 match points; Cardiff Athletics 8 league & 929 match points; 4th Swansea Harriers 7 league & 820 match points; 5th Yate & District AC 5 league & 705 match points; 6th Newport Harriers 2 league & 581 match points. Many thanks to all those athletes who represented the club, most in 2 or 3 events each, individual highlights included A string victories for: U15G Eva Carver 1.46m High Jump; U15G Ruby Campion 2.30m Pole Vault; U13G Somiochi Emenogu 6.30m Shot, click here for the full results.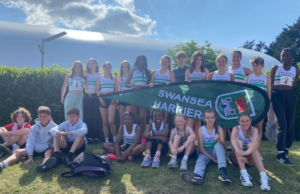 Sunday 4th June was the indoor Cardiff Sprints & Jumps Open meeting where we had three athletes, SW Millie Fakande ran a 12.52 100m PB, SW Lauryn Davey ran 15.08 in the 100m Hurdles & jumped 3.94m in the Long Jump and U17M Evan Morris ran 11.51 in the 100m, well done all!
Tuesday 6th June SM Eli Onyewu runs 11.1 over 100m and SM Owain Clarke 11.9 also for 100m both at the Gloucester open meeting, well done both!