Results Round Up
This week we have results to round up for you from Aberavon, Lee Valley London, Innsbruck-Stubai Austria, Geneva Switzerland, Cardiff, Loughborough, Annecy France, Swansea & Manchester, including another all time club record!
Wednesday 7th June was race 1 of 3 in the Run4All Neath 5km series at Aberavon, the club had just the one runner this time with Thomas Morris coming home in 14th in a time of 18.56, well done Tom!
Wednesday 7th June SM Ben Paris runs an 11.04 for 100m in Lee Valley London, well done Ben!
Thursday 8th June SM Kristian Jones picked up yet another Great Britain & Northern Ireland international vest where he was running in the World Mountain Running & trail Championships in Innsbruck-Stubai in Austria where he helped the team to an awesome GOLD medal over the "short" 45.2km trail race in a magnificent time of 4.30.37 which also sealed him a magnificent 8th place for the individuals overall. Huge congratulations Kris on yet another well deserved GB&NI vest!!
Saturday 10th June saw SM Joseph Brier have an amazing run over 400m in Geneva, Switzerland to break his own all time club record recording a time of 45.54 two hundredths faster than previously and cement his place as the 5th fastest Welshman ever amongst some illustrious company which you can see here.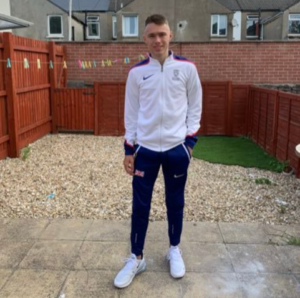 Saturday 10th June saw a Welsh Athletics Open Meeting at Cardiff where U20W Lucy Harris threw a 38.37m Discus; U17M Ioan Ng ran 14.90 for 100m Hurdles & 11.97 100m; U20M Marek Warzocha 11.14 100m & 22.54 200m; U17M Evan Morris 11.49 100m; SW Zoe Dakin 47.26m Hammer; U17M Ben Fenwick 37.53m Hammer; U17W Matilda Quick 26.59 200m & 11.94 80m Hurdles; U17M Lewie Jones 59.47m Javelin; SW Phoebe Brown 38.75m Javelin & Donna Willock 63.05 400m, well done everyone!
Saturday 10th June at Loughborough SM Johnathan Butler runs a PB of  14.36.45 for 500m at the BMC Grand Prix to win the B race, well done Jonathan!
Sunday 11th June SM Joseph Brier was in action again this time in Annecy France for Great Britain & Northern Ireland where he ran in the 4 x 400m relay to help the team to 2nd place with a super fast time of 3:02:43, well done Joseph!
Sunday 11th June was the Swansea Half Marathon where amongst a field of almost 3000 finishers in very hot weather conditions were 25 Swansea Harriers and our first five Men and Women home were as follows.
Men: 6th Blair McWhirter 1.11.55; 7th Matthew Rees 1.12.16; 10th John Moran 1.14.03; 22nd Iwan White 1.19.53 and 23rd Craig Jones 1.20.11.
Women: 5th Emily Marchant 1.18.38; 7th Sioned Howells 1.23.03; 11th Emma Baxter 1.27.57; 22nd Luticia Thomas 1.34.58 and 35th Millie Thorne 1.39.53.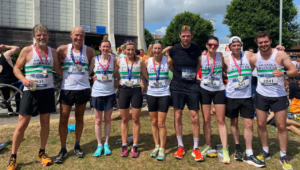 Very well done to all those who ran for the club, with some very impressive top 10 placings amongst them, click here for the full results.
Sunday 11th June saw our Senior Men & Women compete in round 1 of 3 in the National Athletics League at Manchester where they were up against the biggest and best track and field clubs in the UK. Unfortunately the match was abandoned after 23 of the 39 events had been completed due to a horrendous rain, thunder and lightning storm, living up to Manchester's reputation of one of the wettest places in the UK!! The team were in 6th place at this point with some strong events to come and would of, could of finished as high as 5th at the end of play, but we will never know now! Thank you to all the athletes and volunteers who made the event possible up to this point, individual highlights included top 3 placings A&B string combined for 1st Thomas Walley 5.10m Pole Vault; 3rd Oliver Callahan 6.76m Long Jump; 3rd Dan Beadsley 10.59 100m; 1st Jonathan Hopkins 9.00.53 3000m Steeplechase and Luca Cortellese 3.55.35 1500m. Click here for the partial results.