Results Round Up
This week we have results to round up for you from Cardiff x 2, Watford, Aberdare, Porthcawl, Gillingham and Wenlock, including another all time record set in the…………………….
Wednesday 28th June was race 2 of 3 in the SSAFA 5km series at Cardiff where five Swansea Harriers were in action Guy Smith was first home for the club stepping onto the podium in 3rd place overall with a fast time of 14.49, he was followed home by 10th Matthew Harvey 15.32; 12th Matthew Verran 15.37; 34th Andrew Cleverly 16.24 and 61st Steven Taylor, well done everyone!
Saturday 1st July at the Watford BMC Grand Prix U20M Dafydd Jones had a superb run over 3000m to set a time of 8.12.90 to set a new all time club record, the previous record having stood since 1979, well done Dafydd, amazing! This time also hits the qualifying standard to be considered for selection in the European U20 Championships this coming August in Jerusalem, Israel.
Saturday 1st July were the Welsh Schools U15, U17 & U20 Championships held at Cardiff, where we had plenty of representation from the club of our athletes representing their school district teams, Very well done to all those who took part, highlights included medal winning performances by:
18 GOLD: U17W Matilda Quick 1.65m High Jump & 11.56m Shot; U20M Harry Newton 3.67m Pole Vault; U17M Charlie Shuall 3.67m Pole Vault; U20W Rebekah Pratt 2.57m Pole Vault; U17W Amy Beynon 2.77m Pole Vault; U20M Joseph Beresford 58.80 400m Hurdles; U15G Libby Hale 4.37.93 1500m; U20M Marek Warzocha 22.77 200m; U20W Lucy Harris 9.62m Shot & 39.70m Discus; U17M Ben Fenwick 39.25m Hammer; U17W Efa Williams 29.10m Hammer; U17M Lewie Jones 54.40m Javelin; U15B Tyler Davies 2.57m Pole Vault; U15G Ruby Campion 2.57m Pole Vault; U20M Samuel Davies 1.90m High Jump and U20M Evan Cole 16.96 110m Hurdles.
10 SILVER: U17M Louis Shuall 3.57m Pole Vault; U17W Ava Davies 4.53.02 1500m; U20W Lucy Harris 27.02m Javelin; U17W Nele Owen 27.21m Hammer; U15G Libby Hale 42.12 300m; U17M Nathaniel Osborne 13.23m Shot; U20M Harrison Garcia 51.27 400m; U20M Evan Cole 1.85m High Jump; U20M Marek Warzocha 11.33 100m and U15G Millie Pierce 2.23.44 800m.
5 BRONZE: U17W Efa Williams 24.56m Discus; U20M Evan Cole 5.86m Long Jump; U15G Nia Wakely 6.23.32 1000m Walk; U15G Alice Prosser 2.37m Pole Vault and U17M Evan Godwin 11.80 100m.
Congratulations to all those who took part, click here for the full results.
Sunday 2nd July was round 3 of the U17 & U20 Youth Development League at Aberdare, where the team had an awesome turnout and performance to finish 2nd on the day and therefore progress to the UK Regional Finals on Sunday 30th July in Rugby!! Our thanks to all the athletes, officials, team managers and coaches who made this possible! The scores were Team Avon 542.5; Swansea Harriers 482.5; Cheltenham & County Harriers 404.5; East Wales 273 & Cardiff Archers 243. Individual highlights included A string wins for:
U20M Joseph Beresford 60.51 400m Hurdles; U20M Macsen Holland 12.42m Shot; U20M Marek Warzocha, Jacob Dowling, Oliver Patterson & Steffan Higgins 3.57.81 4 x 400m; U20W Daisy Anderson 14.01.51 3000m; U20W Emily Collins 26.05 100m Hurdles; U17W Matilda Quick 1.60m High Jump & 12.20 80m Hurdles; U17W Catrin Squire 8.55m Triple Jump; U20W Rebekah Pratt 2.60m Pole Vault; U20W Lucy Harris 38.31m Discus; U20W Chloe Jones 39.48m Javelin; U20W Rebekah Pratt, Lottie Robinson, Seren Anderson-James & Daisy Anderson 63.56 4 x 100m;  U17M Oliver Patterson 2.03.55 800m; U17W Natalie Coughlan 57.90 300m Hurdles; U17W Efa Williams 8.88m Triple Jump & 21.06m Discus & 22.60m Javelin and U17W Seren Anderson-James 2.30m Pole Vault.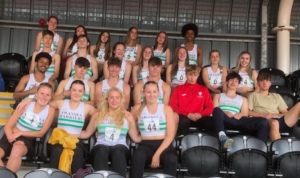 Well done everyone again, click here for the full results.
Sunday 2nd July was the Porthcawl 10km where the club was well represented with 17 of athletes finishing the race, our top five Men & Women home were:
Men: Jonathan Butler had a great run to place 3rd in 30.26, just behind in 4th was Dewi Griffiths 30.39; 8th Jonathan Hopkins 31.14; 9th Matthew Rees 31.47  and  13th Blair McWhirter 32.17.
Women: first home was 5th Caryl Edwards 36.23 followed across the line by 10th Hannah Williams 37.52; 19th Sophie Hartley-Green 40.56; 34th Tori Barry 44.01 and 69th Julie Hartley-Green 47.10.
Well done everyone! Click here for the full results.
Sunday 2nd July SM Mitchell Lawrence runs a 22.86 for 200m at Gillingham, well done Mitchell!
Sunday 2nd July was the Wenlock Olympian Games where we had four Swansea Harriers in action where W27 Daphne Marler ran a 27.0 for 100m; M65 Roderick Davies 14.9 100m & 31.9 200m; M40 Gareth Robbins 2.35.4 800m; U13B Roman Jackson 3.55m Long Jump & 6.75m Shot, well done all!
Monday 3rd July was the West Glamorgan Primary Schools best individuals finals at Swansea University. Pupils qualified through the group stages where they had the chance to be crowned West Glamorgan Champions! Results will follow in due course but is fantastic that 90% of our volunteers judging all the events were from our junior/U23 sections, giving back to grassroots athletics, in an event many of them took part in themselves, what excellent judges they made too, thanks guys!