Results Round Up
This week we have results to round up for you from Aberdare x 2, Swansea, Foligno Italy, Merthyr Mawr, Woodford London, Grangemouth Scotland and Torfaen……………………
Wednesday 12th July was the Welsh Schools NASUWT U14 & U16 Cup & Plate Finals in Aberdare, where the top school teams from each of the eight districts in Wales progressed. We had athletes from the club representing their school team of Bishopston, Olchfa & YG Gwyr. Individual highlights included wins for: U16G Plate Rebekah Saunders 13.18 75m Hurdles; U16G Cup Holly Humphreys 43.12 300m & Championship Best Performance! U16B Cup Evan Godwin 5.60m Long Jump & 11.37 100m; U16G Cup Efa Williams 28.64m Javelin; U14G Cup Tabitha Ventress-Brett 2.40.47 800m and U16B Plate Oliver Patterson 2.02.37 800m. Very well done to all the teams, click here for the full results.
Wednesday 12th July was the third and final summer Swansea Bay 5km Series where sixteen Swansea Harriers made it to the finish, our top five men were: 4th Sam Joseph 17.00; 8th Patrick Tudor 17.57; 12th Alan Davies 18.33; 23rd Jack Sullivan 19.35 and Isaac Mcadie 20.21.
Women: having another great run for 1st was Sioned Howells 18.08; 2nd Chloe Hartley-Green 18.57; and making it a clean sweep of the podium positions was 3rd Millie Pierce 19.09; 6th Sophie Hartley-Green 19.45 and 9th Llinos Jones 20.54.
Well done to everyone who ran, click here for the full results.
Friday 14th July SW Verity Ockenden runs a 9:10.71 for 3000m in Foligno Italy to take the victory, well done Verity!
Saturday 15th July was the Rabbit Run incorporating the Welsh Trail Running Championships at Merthyr Mawr, we are unable to access their website at this time to our antivirus software, so will try and round these up next time for you.
Saturday 15th July was round 2 of 3 in the Senior Men & Women National Athletics League at Ashton Playing Fields, Woodford, London. The team was unfortunate to finish in 7th out of the 8 teams, and will need a big turnaround in fortunes for round three on 5th August in Birmingham.

Our thanks to all the athletes at Woodford who made great efforts in covering nearly all the events, individual highlights included top 3 A string placings for: Men: 3rd Thomas Walley 5.01m Pole Vault; 3rd Brychan Price-Davies 10.06.75 3000m Steeplechase; 1st Patrick Swan 17.26m Shot; 3rd Samuel Davies 1.91m High Jump and Women: 3rd Caryl Moore 60.68 400m Hurdles & 2nd Hannah Brier 23.85 200m. Click here for the full results.
Saturday 15th July was the British Schools U17 International Wales V England V Ireland V Scotland at Grangemouth, Scotland, it was fantastic to see ten, yes 10 Swansea Harriers selected for Wales, including three medals won which was superb! Here's how they all got on: 6th Libby Hale 4.39.69 1500m & 4th 4 x 300m 2.46.93; 7th Ben Fenwick 40.56m Hammer; 8th Efa Williams 34.47m Hammer; 4th Charlie Shuall 3.65m Pole Vault; 5th Louis Shuall 3.65m Pole Vault; SILVER! Amy Beynon 3.15m Pole Vault; GOLD!! Lewie Jones 61.34m Javelin; BRONZE! Matilda Quick 1.65m High Jump & 6th 11.61m Shot; 5th Nathaniel Osborne 13.11m Shot and 8th Bethan Holley 10.30m Triple Jump. Very well done to them all on some very well deserved international vests and three medals to boot, that's amazing, also gaining invaluable experience of international competition, click here for the full results.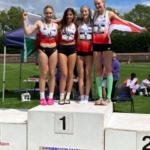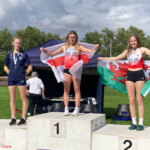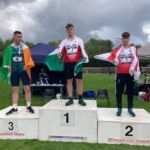 Sunday 16th July was the Welsh Inter Regional U15, U17 & U20/Senior Track & Field Championships at Aberdare where we had several Swansea Harriers representing West Wales and one or two the other regions. Individual highlights included two wins from our members, SM Ryan Price 11.49m Triple Jump and U20W Lucy Harris 8.43m Shot. Very well done to all those who helped the West Wales region to a second place finish overall! Click here for the full results.
Sunday 16th July was the Mic Morris Torfaen 10k where SM Matthew Rees had a great run to step onto the podium in 3rd with a time of 31.15, well done Matthew!
Wednesday 19th July was a Welsh Athletics open meeting at Aberdare where our top Male & Female performances were as follows: Men 100m Marek Warzocha 11.43 & 200m 22.77 and Long Jump Roderick Davies 3.98m. Women: Long Jump Lauryn Davey 10.52m; Javelin Chloe Jones 36.19m and Long Jump Daphne Marler 1.63m. Well done everyone, click here for the full results.