Results Round Up
This week we have results to round up for you from Lee Valley, Corby, Madrid SPAIN, Chelmsford, Yate, Chepstow, Wrexham & Exeter.
Wednesday 19th July SM Lemarl Freckleton runs a 22.09 for 200m at Lee Valley London, well done Lemarl!
Wednesday 19th July SM Michael Kallenberg runs a 15.08.13 for 5000m at Corby, well done Michael!
Saturday 22nd July SM Joseph Brier runs the third fastest 400m of his career of 45.58 in Madrid, Spain against a very strong field, well done Joseph!
Saturday 22nd & Sunday 23rd July were the England Athletics Senior Championships at Chelmsford where we had two of our Senior Women in action, Lauryn Davey had a mixed weekend in the Heptathlon recording 3050 points to finish 6th with her best performances coming in the Shot 10.03m; 200m 26.38, 100m Hurdles 15.14 and High Jump 1.60m and Megan Stratton-Thomas placed 5th in the 5000m Walk in a time of 27.57.59, well done both!
Saturday 22nd July at Yate saw our U13 & U15 Youth Development team put in a great team effort to secure survival in the Premier Division for another season by placing 2nd in a very tough competition. Our thanks to all our juniors who made the effort to travel and support the club, and to all our team managers, coaches and officials who contributed to the result.

Individual highlights included A string victories for U15G Mandida Rushesha 1.43m High Jump; U15G Alice Prosser 2.30m Pole Vault; U13B Ioan Jones 8.88m Shot; U13G Taylor Shelmerdine 4.07.55 1200m; U13G Rutendo Chasweka 12.29 70m Hurdles and U13G Somiochi Emenogu, Taylor Shelmerdine, Katriel Udoh & Rutendo Chasweka 55.85 4 x 100m.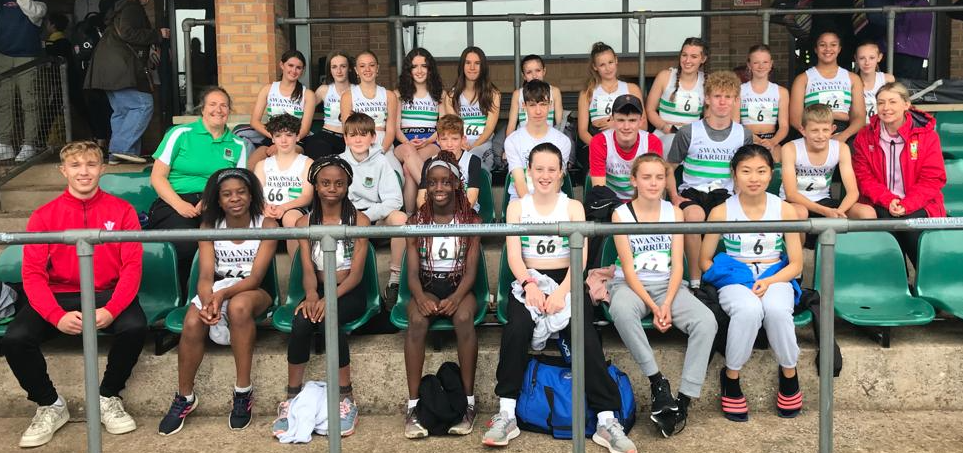 Thank you and well done to everyone again, click here for the full results.
Saturday 22nd July was the Run Through Chepstow Racecourse 5km, 10km and Half Marathon races where W45 Tina Gabb was our sole runner finishing the 10km in a time of 57.29, well done Tina!
Sunday 23rd July was the Helena Tipping Wrexham 10km where M35 Geraint Williams placed 14th in 34.19, well done Geraint!
Tuesday 25th July SM Luca Cortellese runs a 4.06.15 for 1500m in the BMC at Exeter, well done Luca!