Results Round Up
This week we have results to round up for you from Merthyr Mawr, Bath, Cardiff, Magor, Birmingham & Rugby:
Wednesday 15th July were the Welsh Trail Running Championships incorporated into the Merthyr Mawr Rabbit Run where we had four Swansea Harriers in action over an extremely challenging 7.5 mile route! First home for the club was super mater M70 Alan Davies in 16th crossing the line in 54.06, followed home by 55th M60 Steve Smith 60.29; 58th M45 Simon Coombes 60.55 and 146th W35 Jennifer Roberts 69.37, well done everyone!
Wednesday 19th July saw a great win for SM Jonathan Butler in South West England 5km series at Bath who finished in a time of 14.44, also racing was M35 Matthew Rees who placed 8th in 15.17, well done both!
Wednesday 26th July was the 3rd and final SSAFA 5km at Cardiff where we had 9 finishers. Our top five men were 2nd Dominic Smith who had a great sub 15 run of 14.51, followed home by 8th Matthew Verran 15.35; 9th Marc Hobbs 15.41; 10th Matthew Harvey 15.43 and 13th Morgan James 15.47. Kate Roberts was our only runner in the Women and like Dominic also had a great run to get onto the podium in BRONZE recording a time of 17.09!! Well done everyone!
Saturday 29th July was the Magor 10km where Matthew Rees was in action again taking the win in a time of 31.56 well done Matthew! Matthew was followed home by 10th Matthew Verran 34.51 who was our only other runner, well done Matthew!
Saturday 29th & Sunday 30th July was the Birmingham University Athletics Festival where SM Karl Williams ran 11.40 for the 100m; SM Owain Clarke ran 59.62 for 400m Hurdles and SW Hannah Brier set a PB of 53.59 in the 400m & 24.36 over 200m. Incorporated into the meeting was a British Milers Club where U20M Dafydd Jones ran a 3.51.99 for the 1500m, Dafydd has been on great form this year, so much so he has been selected for Great Britain in the European U20 Championships in Jerusalem, Israel next week!! Dafydd will go in the 3000m,  more details to follow in a day or two for you.
Sunday 30th July saw our U17 & U20 team compete in the Youth Development League Regional final where there was a huge turnout of almost 40 of our juniors which was fantastic to see! The team did fantastically well to progress this far in the competition and finished a very credible 5th on the day against some big clubs. Our thanks to all the athletes who competed and to the team managers, coaches and officials who contributed to this result. 1st Rugby & Northampton 754; 2nd Team Avon 687.5, 3rd Cheltenham & County Harriers 524; 4th Birchfield Harriers 508; 5th Swansea Harriers 467.5; 6th Notts AC 457.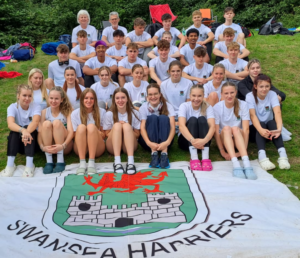 Individual highlights included top 3 A string placings for:
U20M 2nd Marek Warzocha 22.89 200m; 2nd Harrison Garcia 50.93 400m; 3rd Evan Cole 16.74 110m Hurdles & 6.06m Long Jump & 3rd 1.80m High Jump; 2nd Joseph Beresford 58.10 400m Hurdles; 3rd Oliver Philpott 3.00m Pole Vault and 2nd Oscar Dun 30.96m Discus.
U20W 3rd Daisy Anderson 14.49.10 3000m; 3rd Sophie Taylor 1.45m High Jump; 2nd Catrin Squire 8.75m Triple Jump; 3rd Rebekah Pratt 2.45m Pole Vault & 3rd 19.68m Discus & 2nd 35.17m Hammer and 1st Chloe Jones 41.25m Javelin.
U17M 3rd Evan Godwin 11.93 100m; 3rd Steffan Higgins 53.54 400m; 3rd Harry Collins 15.53 100m Hurdles; 3rd Aled Davies 5.42m Long Jump & 3rd 11.59m Triple Jump; 1st Charlie Shuall 3.80m Pole Vault; 2nd Nathaniel Osborne 12.99m Shot and 2nd Lewie Jones 34.50m Discus & 1st 55.02m Javelin.
U17W 2nd Matilda Quick 12.27 80m Hurdles & 1st 11.51m Shot; 2nd Bethan Holley 9.79m Triple Jump; 2nd Amy Beynon 2.90m Pole Vault and 2nd Efa Williams 19.79m Discus & 3rd 27.56m Hammer.
Congratulations also to Evan Cole & Emily Collins who were our athletes of the match.