Results Round Up
This week we have results to round up for you from Aberavon, Birmingham x 2, Manchester, Barry, Jerusalem Israel & Loughborough.
Wednesday 2nd August was the 3rd and final Run 4 All Neath 5km series where we had three runners, SW Megan Clements had a great run to finish 3rd in 19.20, SM Thomas Morris 90th in 37.55 and Megan's dad Anthony Clements was 126th in 29.07, well done all!
Wednesday 2nd August was the Birchfield Harriers open meeting at Birmingham where SW Eli Onyewu ran a fast 10.72 for the 100m to win his race and SW Cerys Thomas threw a big 51.23m in the Hammer, well done both!
Saturday 5th August was the 3rd and final round of the Senior Men & Women National Athletics League at wet and windy Alexandra Stadium Birmingham. In what was an enthralling competition (if you were a neutral!) where we kept changing places with Notts AC throughout the day, who we had to beat to retain our place in the Premier Division, but it was not to be despite the awesome team effort where teh athletes covered all the events, where we eventually placed 7th and therefore 13th in the league to be relegated into the Championship for 2024. Thank you to all our athletes, team managers, coaches and officials who did their utmost to try and stay in the top flight, where we were up against the very best club teams in the UK. We will bounce back next year! Individual highlights included top 3 A string placings for Hannah Brier 1st 400m 54.00; Megan Carter-Davies 4.34.26 2nd 1500m; Caryl Moore 62.24 3rd 400m Hurdles; Donna Willcock, Stefani Karekla, Caryl Moore & Hannah Brier 3rd 4 x 400m 4.03.49, Patrick Swan 1st Shot 17.18m; Lucy Harris 40.88m 3rd Discus and Thomas Walley 1st Pole Vault 4.91m.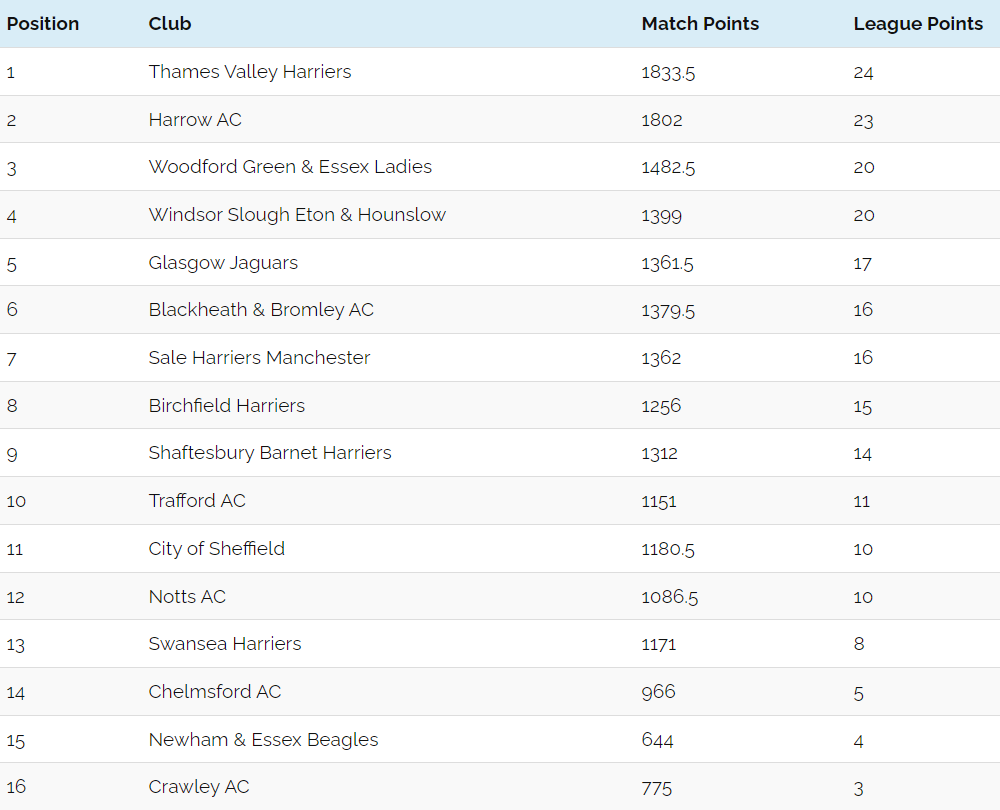 Click here for the full results.
Saturday 5th & Sunday 6th August saw U17W Matilda Quick compete in the England Athletics Combined Events Championships at Manchester in the Heptathlon where she placed an excellent 7th overall and winning Welsh BRONZE, amassing 4302 points courtesy of a 12.16 80m Hurdles, 1.59m High Jump, 12.17m Shot, 27.29 200m, 4.86m Long Jump, 26.96m Javelin & 2.46.62 800m, well done Matilda!
Sunday 6th August was the Barry Island 10km race where we had 8 finishers all in the Men's race. Our top five home were Matthew Harvey who had a great run to place 6th in 32.45, followed across the line by 14th Sam Joseph 34.54; 38th Daniel Morgan 37.45; 44th Alan Davies 38.10 and 86th Paul Llewellyn 40.50, well done everyone, click here for the full results.
Monday 7th August U20M Dafydd Jones representing Great Britain & Northern Ireland in the U20 European Championships, in heat of the 3000m safely qualified for Wednesdays final in 8th spot recording a time of 8.25.18. Then on Wednesday 9th August in the final it was a slow tactical race that had a couple of fallers that thankfully Dafydd manged to avoid coming home in 14th in a time of 9.00.13. Very many congratulations to Dafydd on such a great achievement and experience!
Wednesday 9th August at the British Milers Club meeting in Loughborough in the 5000m Verity Ockenden has a great run to win the Womens race in 15.21.59 and Sophia Harrison is 4th in 18.34.06, well done both!