Results Round Up and Club Records, Rankings & Gold Awards Updates
This week we have a round up of results, our club junior gold award winners, club record breakers and club rankings to date for your scrutiny!
Results Round Up:
Back on Sunday 22nd May one of our former Commonwealth Games superstars SW Elinor Kirk ran a fast 36.24 for the Manchester 10km, well done Elinor!
Saturday 28th & Sunday 29th May were the England Athletics Senior & U20 Combined Events Championships @ Bedford where SW Lauryn Davey placed a magnificent 7th overall, 2nd in Wales and 5th Britain amassing 5097 points in her seven event heptathlon courtesy of a 14.74 100m Hurdles, 1.59m High Jump, 11.89m Shot, 26.02 200m, 5.46m Long Jump, 35.40m Javelin & 2.23.16 800m, well done Lauryn!
Saturday 28th May in the IFAM Grand Prix in Oordegem, Belgium, Joseph Brier ran another fast 45.75 over 400m to take 3rd in the mens 400m. This was just 0.01s off his personal best and club record set earlier this year, well done Joseph! Also at Oordegem SW Olivia Caeser ran a fast 24.98 for 200m and 55.82 for 400m, well done Olivia!
Saturday 28th May was meant to be the Welsh U11 U13 & U15 League @ Neath but was postponed due to lack of appropriately qualified officials. This new diluted format of the league with less teams, events and athletes made it more of a challenge than it was previously to find enough volunteers before and on the day for the events to run, our thanks to all those individuals from all clubs who tried really hard to get the meeting to go ahead. However to mitigate this becoming a repeating scenario it would be prudent for the six clubs affiliated to the West Division to try and find volunteers to attend the free scheduled UK Athletics officials courses listed here.
Sunday 29th May was round 2 of the U17 & U20 Youth Development League @ Swansea. In what was a great days athletics and team effort with every single event discipline on offer, it was a well attended fixture with plenty of volunteers too, our thanks to all those who made the day possible it would not of happened without your support. Team wise we did really well to place 2nd and in a very tight league table placed in 2nd too. Individually highlights included A string wins for:
U20M: Owain Clarke 60.42 400m Hurdles.
U20W Ella Davies 2.26.62 800m and Chloe Jones 36.37m Javelin.
U17M: Lewie Jones 12.99m Shot & 50.90m Javelin.
U17W: Mai Davies 10.51.81 3000m; Rebekah Pratt 2.30m Pole Vault and Lucy Harris 36.27m Discus.
Our sincere thanks also to the entire team who were amazing and showed great team spirit competing in several events each including the relays, if they can pull off another performance like this in round 3 on 26th June at Cheltenham, they will be off to the Regional finals!!!!!! Click here for the full results.
Our athletes of the match from round 1 pictured below, were presented with their medals after showing great efforts of the squad competing in three individual events each were U17M Lewie Jones and U20W Emily Collins.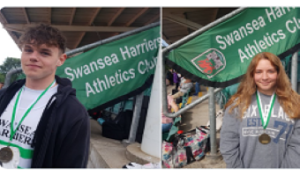 Sunday 29th May was the Beast Of Bryn 6 & 15 Mile multi terrain races at Afan Argoed where over a very challenging route in the 15 miler SM Gabrielius Stuokus placed 24th in 2.04.23 followed by 34th Simon Coombes in 2.08.08 and over the 6 mile short course there was a fantastic win for new member U23M Joshua Morgan in 50.05 well done!
Club Records:
To date four club records have been broken/equaled this season our hearty congratulations to:
Senior Women Hannah Brier 23.39 200m
Senior Men Joseph Brier 45.74 400m
U15G Matilda Quick 11.38m Shot & Pentathlon 3034 points.
Which records will fall next?
Gold Awards:
The Gold Awards are a club award to recognise outstanding performances from our junior athletes. The standards are pitched at the midway point between a grade 1 and a grade 2 standard on the AAA standards AAA Standards for 2017-2018 v3. A gold award would be seen to be in the top 10% or thereabouts of all the performances in the age group. This year the qualifying events have been opened to any performance which is recorded on Power of 10. As you might imagine it will be a big task to keep an eye on all of our junior's performances over the season and if you think you have achieved a gold award but your name is not showing please email [email protected] with the time/ distance/ height achieved as well as the date of the competition and it will be checked. The awards themselves will be presented at the club presentation night which will be organised at the end of the season.
U20 Men: 100m Dylan Morgan 10.84; 60m Thomas Payne 6.97 & Pole Vault William Trott 4.63m.
U17 Men: 100m Hurdles Evan Cole 13.99; Discus Lewie Jones 39.73m & Javelin 56.51m.
U17 Women: 800m Hannah Kinnane 2:12.83 & 1500m 4.40.27; 80m Hurdles Megan Gwyther 11.90 & Discus Lucy Harris 37.57m.
U15 Girls: 800m Libby Hale 2:19.54 & 1500m 4:35.94; 75m Hurdles Matilda Quick 11.8 & High Jump 1.61m & Shot 11.38m &
Outdoor Pentathlon 2945 points & Indoor Pentathlon 3040 points.
U13 Boys: High Jump Sean Strevens 1.50m.
Club Rankings:
These can be viewed across all age groups and event disciplines, and are changing by the day as results are submitted and ratified, so please keep checking back once a week by clicking here.