Senior Men & Women National Athletics League Round 3 @ Yate Saturday 7th August
Saturday 7th August sees round 3 of 4 in the Senior Men & Womens League at Yate, BS37 7LB. This new league has been formed following the dissolution of the men's British Athletics League (BAL) and UK Women's League (UKWL). After round 1 the team are placed 1oth out of the 16 teams.
Any athlete wishing to be considered for selection to compete for the team please contact our team managers:
Senior Women, Caroline Hurley at [email protected] or 079 20 80 45 90
Senior Men, David Jones at [email protected] or 01792 23 42 29
The very best of luck to those athletes who make the squad V Birchfield Harriers V Blackheath & Bromley Harriers V Bristol & West AC V Cardiff AAC V City of Sheffield & Dearne AC V Harrow AC V Jaguars Track & Field Club V Newham & Essex Beagles V Notts AC V Shaftesbury Barnet Harriers V Southampton AC V Thames Valley Harriers V Trafford AC V Woodford Green with Essex Ladies V Windsor Slough Eton & Hounslow.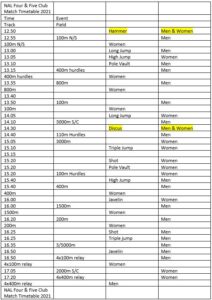 This revised format for the Premiership, Championships and National 1 divisions sees teams placed into four groups of four and is devised to minimise travel and overnight stays and adhere to Covid-safe guidelines. Given that clubs will face the same opposition each round this season according to geography rather than all other clubs, scoring will be based on performance tables rather than athlete positions this season. Athletes will be allotted points calculated using performance scoring tables and the clubs' standings for that match will be an amalgamation of all their athletes' tallies. Standings will then convert to round points – 16 down to 1 for each division. For the 2021 season only, no relegation or promotion will take place.
All four of our fixtures are being held in Yate due to more Covid 19 regulations and restrictions in Wales that would not of enabled this league to go ahead in Swansea or Cardiff. We are very grateful to Yate for their support, to partially repay their kindness would like to try and find as many UK Athletics qualified officials as possible for them. Any UK Athletics qualified timekeepers, track judges and field judges should contact Ann Owen at [email protected] so that you can be declared on the teams portal and chief judges can start to allocate duties.