U13 & U15 Youth Development League Round 1 @ Carmarthen Sunday 7th May
Sunday 7th May sees our U13 & U15 compete in round 1 of the Youth Development League that we are hosting at Carmarthen, SA31 3NQ.
With us restricted to just two athletes per event you will need to be selected by your team manager to participate. If you'd like to be considered for selection please get in touch with your relevant team manager:
U13 Boys (School years 6 & 7) Rachel Newton [email protected] or 079 12 88 72 40
U13 Girls (School years 6 & 7) Emily Collins [email protected] or 075 47 41 70 49
U15 Boys (School years 8 & 9) Melanie Jones & Lowri Bennett [email protected] or 078 76 77 03 74 & 074 64 12 51 44
U15 Girls (School years 8 & 9) Catherine Collins [email protected] or 079 03 13 77 54
This is the only scoring team event our juniors have available to them again this year where we are up against some really tough opposition in the shape of Cardiff AAC, Cheltenham & County, Yate & District, Newport & Swindon. If we are lucky enough to place in the top 2 teams at the end of the first 3 fixtures we can progress to the UK Midlands Regional final and then potentially onto the UK Final, which we've done once or twice in the past.
As per usual we will need plenty of UK Athletics qualified officials and some volunteers to back them up. Please contact our officials secretary Jo Wood on juicy19[email protected] or 079 89 26 83 61 if you can help us out please.
And finally, yes we are hosting at Carmarthen rather than Swansea, as whilst the refurbishments and repairs are underway at the track in Swansea,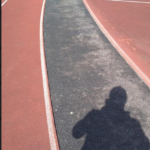 we cannot guarantee they will be completed in time for the 7th as the work is very much weather dependant for the work that involves relaying the track surface in lane 1. We are very grateful to Carmarthen Leisure Services and Carmarthen Harriers for allowing us to use their lovely track at such short notice.