Results Round Up
This week we have results to round up for you from Aberdare, Swansea, Derby, Bern & Geneva Switzerland, Caernarfon to Cardiff and everywhere in between.
Tuesday 7th June was the Cardiff Throws open at Aberdare, where U17M Nathaniel Osborne threw a 11.55m Shot; U17M Ben Fenwick 24.35m Hammer; U17W Rebekah Pratt 34.95m Hammer and M65 Chris Pruski 31.42m Javelin, well done all!
From Friday 10th to Sunday 12th June was the British Masters Track & Field Championships at Derby where M65 Chris Pruski was our sole competitor, but he had a great day to win the SILVER medal in the Javelin and set a new Welsh Masters record of 31.92m in the process, well done Chris!
Saturday 11th June SM Joseph Brier broke his own all time 400m club record with a 45.56 placing 3rd in a high class field in Geneva, Switzerland which was also a European Athletics qualifying standard and the fastest time run by a Welsh athlete for 13 years taking him to 4th on the Welsh all time list amongst some illustrious company, well done Joseph!
The weekend of Saturday 11th & Sunday 12th June was the Welsh Castles 20 Stage Caernarfon Castle to Cardiff Castle Road Relay, (the bus drivers perspective). An amazing weekend that encompasses everything that is great about our sport, run over 2 days following a route down through the middle of Wales covering over 200 miles, 20 stages, 58 teams. It had been many years since Swansea had entered an open Team and 20 years since they last won it. In fact it hadn't been won by a Welsh team in ten years being dominated by strong English Clubs. This year we aimed to set that straight! The Team had been selected and despite a few unfortunate last minute changes confidence was high. The early stage runners set off for Caernarfon on Friday afternoon in readiness for the  10.00am start on Saturday. The rest off the team would follow over the weekend to their respective starts as the race progressed down the country. You can read the full 3 page report here to see how the team got on! Welsh castles relay 2022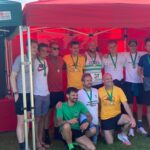 The weekend of Saturday 11th & Sunday 12th June was the Welsh U15 & Senior Championships at Cardiff where we had a great turnout in the U15G, Senior Men & Women with all athletes gaining invaluable competition experience, many seasons and personal bests were set, highlights included medal winning performances by athletes with Welsh eligibility set by:
14 GOLD: SM Jack Houghton 55.68 400m Hurdles; U15B Cai Allen 2.90m Pole Vault; U15G Matilda Quick 1.60m High Jump & 10.99m Shot; U15G Libby Hale 2.15.56 800m & 4.34.87 1500m; SM Ryan Price 12.28m Triple Jump; SM Lemarl Freckleton 21.53 200m; SW Bethany Moule 42.84m Javelin; U15G Efa Williams 25.79m Javelin; U15G Seren Anderson-James 2.30m Pole Vault; SW Carys Jones 3.90m Pole Vault; SM Aled Price 6.65m Long Jump and SW Hannah Brier 11.38 100m.
9 SILVER: SM Owain Clarke 59.22 400m Hurdles; U15B Tyler Davies 2.80m Pole Vault; SM Jack Houghton 16.05 110m Hurdes; SW Caryl Granville 13.62 100m Hurdles; U15G Ruby Campion Pole Vault 2.30m; SW Millie Carter 3.50m Pole Vault; SM Samuel Davies 1.91m High Jump; SM Steffan Jones 49.51 400m and U15B Oliver Philpott 5.75m Long Jump.
7 BRONZE: SM Joseph Beresford 60.25 400m Hurdles; SW Tiffany Rees 2.24.67 800m; U15G Matilda Quick 11.82 75m Hurdles; U15G Sophie Taylor 4.77m Long Jump; SW Cerys Thomas 46.48m Hammer; U15G Efa Williams 21.01m Javelin and SW Carys Jones 4.56.34 1500m.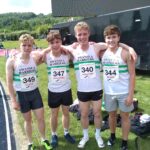 Sunday 12th June was the Swansea Half Marathon despite the clash with the Castles Relay, there was still a great turnout of 16 of our seniors ran in breezy conditions on the sea front, with our first 5 Men and Women home as follows:
Men: 4th Joshua Griffiths 1.04.53, 6th Dewi Griffiths 1.06.23; 59th Daniel Morgan 1.23.30; 82nd Mike Gleeson and 83rd Alex Simpson 1.26.27.
Women: 6th Emily Marchant 1.19.11; 16th Helen-Marie Davies 1.29.48; 17th Emma Baxter 1.31.11; 48th Lois Woodward 1.38.52 and 54th Rebecca Bennett 1.40.19.
Very well done to all those who took part, click here for the full results.
Tuesday 14th June SW Verity Ockenden in Bern Switzerland wins the 3000m in a time of 9.06.54 as part of the World Athletics Continental Tour, congratulations Verity!
Welsh Blood Service: This week is World Blood Donor week. We are highlighting the lifesaving difference donating makes. Here's everything you need to know about giving blood with your Welsh Blood Service by clicking here. You can read more on Swansea Harriers Community Partnership work here.