Results Round Up
This week we have results to round up for you from Loughborough, Berlin Germany, Cardiff, Swansea, Neath and Gloucester, including another all time record in the……
Wednesday 21st June SM Ben Paris runs a quick 49.22 in his 400m debut in Loughborough, well done Ben!
Saturday 24th June John Hayes placed 4th with his team in the final of the mixed 4 x100m in the World Special Olympics in Berlin Germany, where he was selected for the Great Britain team, after frustratingly missing out on the individual 400m & 800m due to a calf injury, John ran a storming 4th leg! We were glad to read that training and competing in athletics is Johns favourite thing in the World, having also previously represented Great Britain at the European Championships in 2017, winning gold in the 100m. John is often full of surprises for us, we will have an audience with John and question him on his return to training of how the Pope was lucky enough to see John when he was racing in front of him in the Vatican!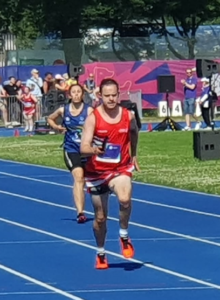 Saturday 24th & Sunday 25th June were the Welsh U15 & Senior Championships held at hot, sunny and windy Cardiff. We had a great turnout from the club with plenty of club vests on display, with all the athletes gaining invaluable championships experience! Very well done to all those who represented the club, below is our tally of 25 medals won!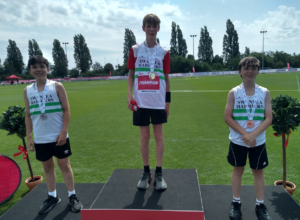 6 GOLD: U15G Libby Hale 4.26.75 1500m which was a club, Welsh & Championship record well done Libby amazing! SM Joseph Brier 45.96 400m; SW Hannah Brier 54.13 400m; SM Sam Davies 1.96m High Jump; U15B Tyler Davies 2.80m Pole Vault and SW Donna Jones 68.59 400m Hurdles.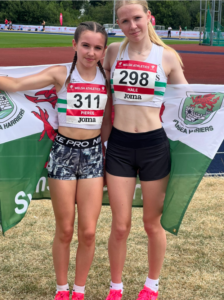 9 SILVER: U15G Ruby Campion 2.40m Pole Vault; SM Steffan Jones 49.28 400m; U15B Alfie Philpott 2.10m Pole Vault; SW Stefanie Karleka 71.48 400m Hurdles; SM Jack Houghton 57.14 400m Hurdles; SM Joseph Beresford 57.69 400m Hurdles; SW Chloe Jones 38.78m Javelin; SW Matilda Quick 1.60m High Jump and SW Donna Jones 9.83m Triple Jump.
10 BRONZE: U15G Tabitha Ventress-Brett 9.10m Triple Jump; U15G Alice Prosser 2.30m Pole Vault; U15G Millie Pierce 4.49.91 1500m; SW Cerys Vico 59.31 400m; SW Lauryn Davey 9.85m Shot; U15B Jeston Allen 2.00m Pole Vault; SM Owain Clarke 58.01 400m Hurdles; SW Phoebe Brown 38.00m Javelin; SW Bethan Holley 9.80m Triple Jump and U15B Callum Hedges 13.30 80m Hurdles.
Sunday 25th June in the Gloucester 10km we had two runners both stepping onto the podium with Michael Kallenberg in SILVER with a time of 32.51 and just behind in BRONZE was Matthew Rees in 33.42 well done both!
Tuesday 27th June was the Throws Open Meeting at Neath where U20W Rebekah Pratt threw 6.95m in the Shot & 32.54m in the Hammer; U20W Lucy Harris 39.32m in the Discus; U17M Ben Fenwick 35.36m in the Hammer and U17M Lewie Jones 57.17m in the Javelin, well done all!
Tuesday 27th June was the Afan Nedd Tawe Schools U14 & U16 Cup match at Swansea, where there was an enormous turnout of 21 secondary schools with over 600 pupils, despite the wet weather. Pupils compete one year out of sync with club age groups and it is the top two teams in each section rather than individuals who progress to the Welsh final at Aberdare on Wednesday 12th July. Individual highlights included wins for Swansea Harriers athletes in the:
U14B Joe Crocker 12.0 75m Hurdles (Bryn Tawe) and Sam Rees 2.24.1 800m (Gwyr).
U16B Oliver Philpott 13.2 80m Hurdles (Olchfa) and Evan Godwin 11.4 100m & 5.55m Long Jump (Gwyr).
U14G Hannah Jones 2.32.4 800m (Gwyr); Lyla Jonsson 5.41.2 1500m (Bishopston); Rosa Janetta 19.92m Discus (Gowerton) and Tabitha Ventress-Brett 9.10m Triple Jump (Olchfa).
U16G Matilda Quick 11.5 80m Hurdles & 1.50m High Jump (Morriston); Hope Parry 29.1 200m (Bishopston); Holly Humphreys 44.2 300m (Gwyr) and Millie Pierce 2.24.4 800m (Olchfa).
The teams progressing to Aberdare will be
U14B Cup Final =YG Gwyr Plate Final = Bishopston.
U14G Cup Final = Olchfa, Plate Final = YG Bro Dur.
U16G Cup Final = YG Gwyr, Plate Final = Bishopston.
U16B Cup Final = YG Gwyr, Plate Final = Olchfa.
You can view the full team and individual results here 27.06.23 ANT U14 U16 CUP RESULTS – FINAL